Webinar Personal Branding: Level-Up Your Career & Business
Tanggal: 28 Juli 2021
Tempat: Zoom Online
Pukul: 19:00 – 20:30 WIB
HTM: FREE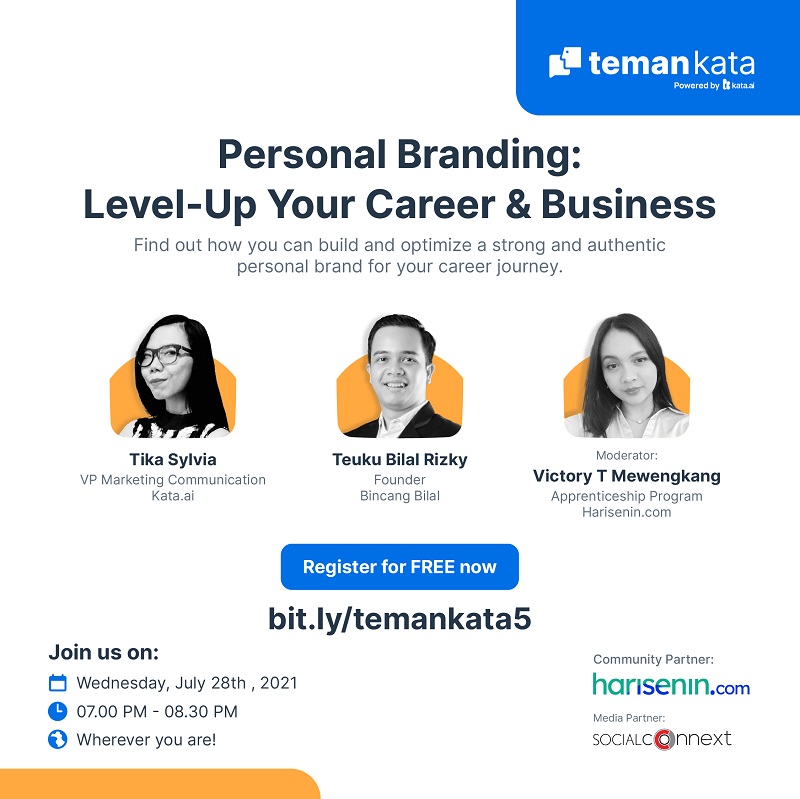 Personal branding is a crucial part of our career & business success!
A personal brand doesn't happen overnight. As we enter an era where digital is rapidly changing and always connected, we can always be connected, we can see that there's a connection between building our personal brand into our business or career success.
The professional, executive, top management to CEOs need to create a strong, authentic, and consistent personal branding across multiple platforms. That is an important asset and powerful marketing tool that can exponentially bring a good impact for us.
In collaboration with harisenin.com, Kata.ai presents Teman Kata online meetup, a free webinar event attended by expert speakers from various industries.
Let's stand out from the crowd! Sign up Personal Branding: "Level-Up Your Career & Business". Here's a sampling of what we'll share:
How to craft your personal brand story
Identifying our strengths, create a differentiator for our personal brand
Building trust, credibility, connections of personal brand
Using our personal profile to promote our brand
Communicating our brand at work and on social media
Save the date!
Wed, July 28th, 2021
7pm – 08.30pm
Free webinar via Zoom
Topic: "Personal Branding: Level-Up Your Career & Business"
Speakers:
Tika Sylvia – VP Marketing Communication Kata.ai
Teuku Bilal Rizky – Founder Bincang Bilal
Moderator: Victory T Mewengkang – Apprenticeship Program Harisenin.com
Register today! Meet our speakers, and expand your network with hundreds of participants from various sectors.
Info dan kontak:
Email: vega@kata.ai