WEBINAR NASIONAL ECONOMICS CARE 2.0
Tanggal: Minggu, 3 Oktober 2021
Tempat : Zoom Meeting
HTM : Free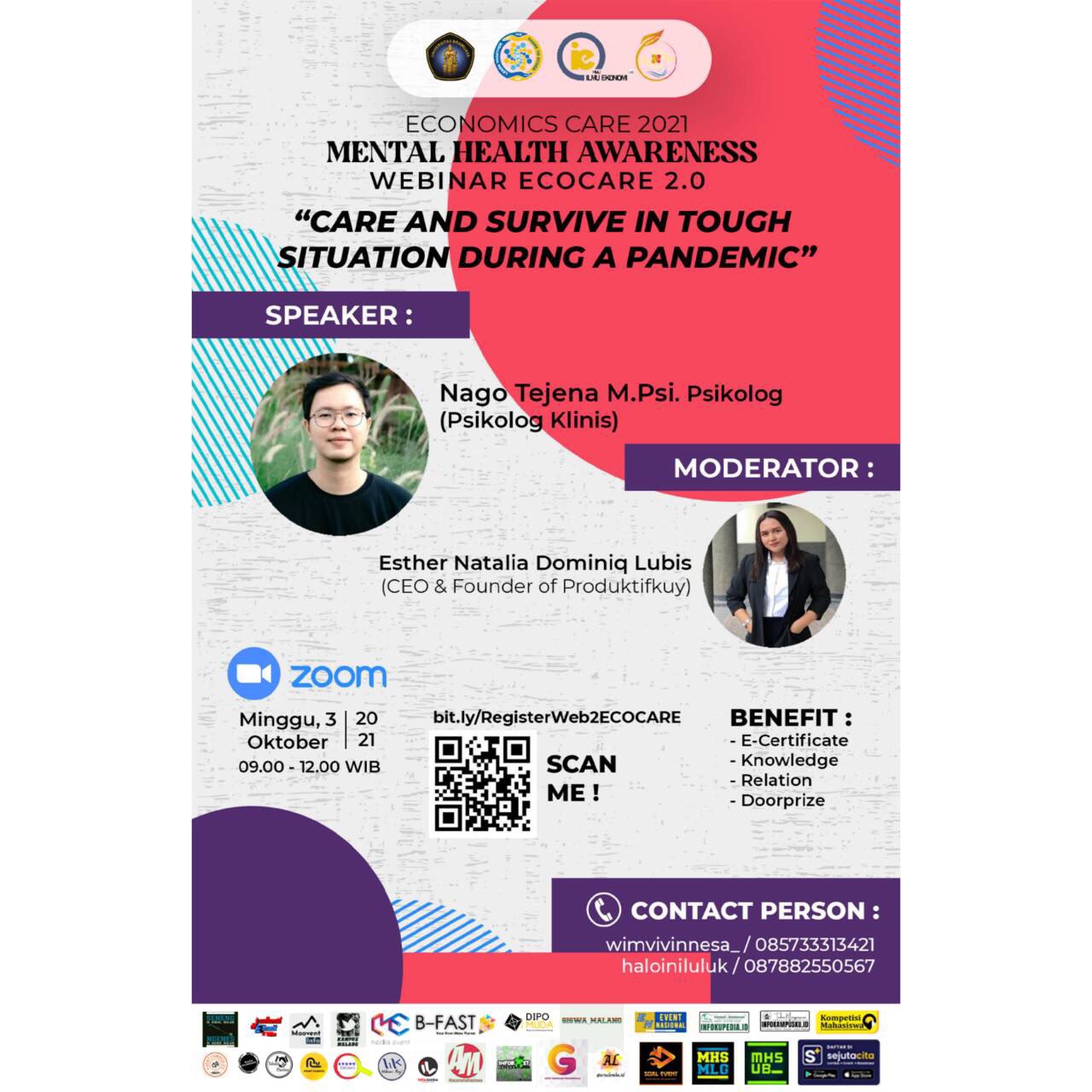 [WEBINAR NASIONAL ECONOMICS CARE 2.0]
"What mental health needs is more sunlight, more candor, and more unashamed conversation,." – Glenn Close
Halo, Folks! ?
Economics Care akan hadir kembali dengan membawakan webinar nasional yang mengusungkan tema :
? Tema
Tema : "Mental Health Awareness: Care and Survive in Tough Situation During a Pandemic"
? Pembicara :
Nago tejena M.Psi.,Psikolog
(Psikolog klinis)
?Moderator :
Esther Natalia Dominiq Lubis
(CEO & Founder of Productifkuy)
? Webinar akan dilaksanakan pada :
Hari/Tanggal : Minggu, 3 Oktober 2021
Waktu : 09.00 WIB – Selesai
Tempat : Zoom Meeting
?HTM : FREE (Terbuka Untuk Umum)
?Benefit yang didapat :
E- Certificate
Knowledge
Relation
Door Prize
❗️Registration Link❗️
https://bit.ly/RegisterWeb2ECOCARE
Yuk segera daftarkan dirimu melalui link registrasi dan jangan sampai lewatkan kesempatanmu untuk bisa peduli dan survive di masa pandemi. See you!
For further more information ?:
Fauzul : prettybrily/085880429106
Tricia : ciaalr/081262911859
For further more information, visit us at:
Instagram : ecocare2021
Line : @345mhgoj