Webinar Gratis Hijrah Coach "Mom as The Best Teacher"
Tanggal: 16 Oktober 2021, 10.00-11.30 WIB
Tempat: Online via Zoom
HTM: Gratis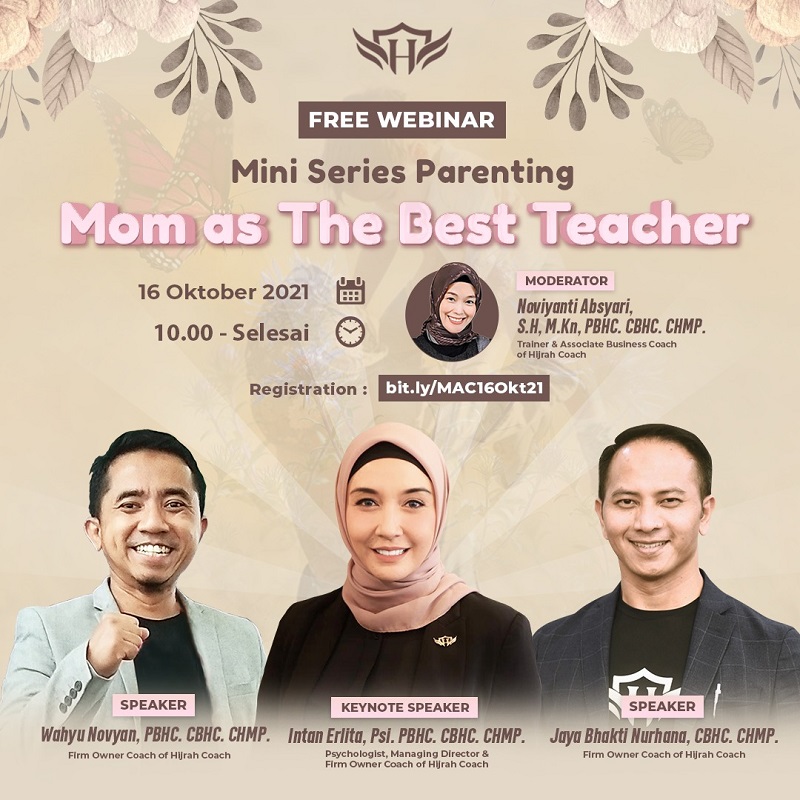 Dibalik generasi hebat, ada ibu yang hebat dalam mengasuh & mendidik.
Masa Golden Age (0-5 tahun) sangat penting untuk hadirnya sosok ibu dalam hidup anak, karena saat anak beranjak remaja atau menjelang dewasa muda, ibu telah menjadi role model & figur guru bagi anak.
Sadar akan besarnya peran ibu dalam mencetak generasi bangsa, kami hadir untuk mengajak Parents untuk belajar bersama agar mampu menjadi role model terbaik bagi anak.
Ikuti Mini Series Parenting #2 "Mom as The Best Teacher"
? Pola parenting edukatif
? Peran ibu sebagai guru di rumah
? Menjadi role model bagi anak
Keynote Speaker:
?️ Intan Erlita Psi, PBHC, CBHC, CHMP
Psychologist, Managing Director & Firm Owner Coach of Hijrah Coach
Speakers:
?️ Wahyu Novyan, PBHC, CBHC, CHMP
Firm Owner Coach of Hijrah Coach
?️ Jaya Bhakti Nurhana
Firm Owner Coach of Hijrah Coach
Moderator
?️ Noviyanti Absyari S.H, M.Kn, PBHC. CBHC. CHMP.
Trainer & Associate Business Coach of Hijrah Coach
Catat waktu dan tanggalnya ya!
? Sabtu, 16 Oktober 2021
? 10.00-11.30 WIB
? Online via Zoom
Daftar gratis di ? http://bit.ly/MAC16Okt21
Dapatkan insight bermanfaat seputar parenting & E-Certificate bagi seluruh partisipan.
Yuk raih kesempatan ini untuk belajar pola pengasuhan yang cerdas & tepat untuk menjadi sosok ibu hebat!
Don't miss it!