The 4th Indonesia Circular Economy Forum 2021 – Open for Collaboration!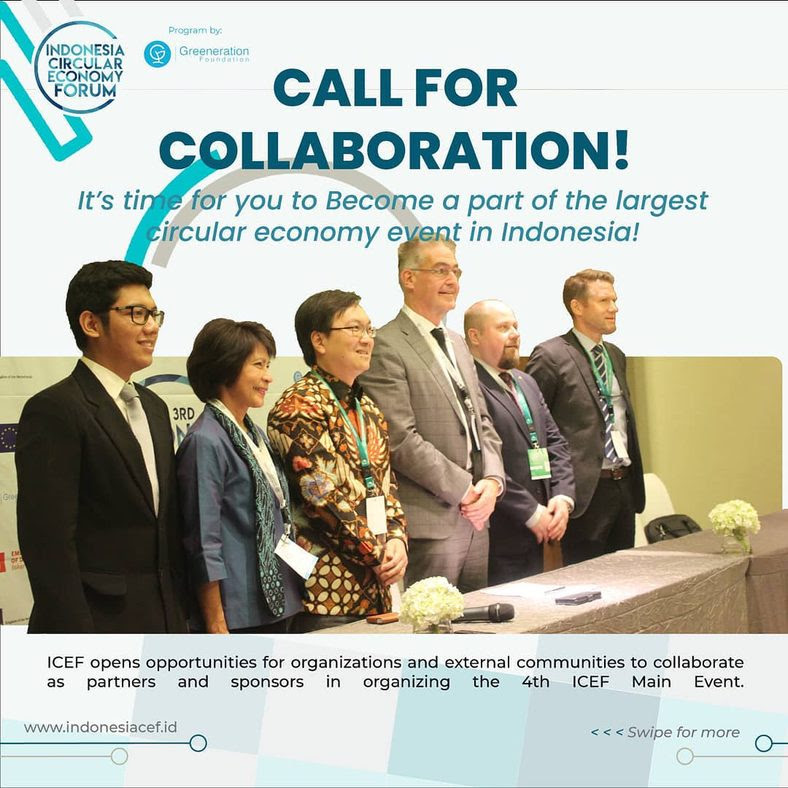 The Indonesia Circular Economy Forum (ICEF) is the largest annual event in Indonesia on the Circular Economy where high-ranking officials from the government, corporate, academic, professional and other relevant stakeholders will gather and identify challenges and solutions to implementing a circular economy in Indonesia. This year, the top event of the ICEF will be held in FULL ONLINE in July, in order to break the chain of the spread of COVID-19. The event will take the theme "Towards Smart and Sustainable Cities through Circular Economy: Building Resilience During COVID-19 Recovery" in response to the COVID-19 pandemic that is still happening today.
Leading to the main event (Main Event) in July, ICEF will hold a series of activities for the next 5 months to welcome the top event. This time, ICEF opens opportunities for organizations and external communities to collaborate as partners and sponsors in organizing ICEF events. Let's take an active role in organizing the largest Circular Economy activity in Indonesia!
Call for Innovation! – CIRCULAR JUMPSTART
Circular Jumpstart is one of the series of events leading up to Indonesia Circular Economy Forum Main Event. Circular Jumpstart is a program for awareness building on the circular economy through a competition approach. We aim to help micro and small enterprises that are sustainable and based on a circular economy in Indonesia to grow their market and competitiveness. Circular Jumpstart is here as a solution to reduce trade-offs between the economy and the environment, by giving SME(Small Medium Enterprise) an opportunity to showcase their business innovation to potential investors on the 4th ICEF Main Event.
Circular Jumpstart is an incubation program for micro and small enterprises, which consists of a business mentoring program, networking opportunities with investors and business partners, with a grand prize of financial support for your business. We are looking for innovators from micro and small enterprises with sustainable practice and aspiration toward circular business models to become a participant for Circular Jumpstart. Do you fit those criteria? Apply now to become our participant and get a chance to elevate your business into a more sustainable, circular growth!

For more information, please contact
+62 888 618 1233 (Ghina)
icef@greeneration.org