Start Up Idea Competition
Tanggal: 5 September – 2 Oktober 2021
Pendaftaran:
Pendaftaran Gelombang 2 : Rp75.000/tim
Pendaftaran Gelombang 3 : Rp100.000/tim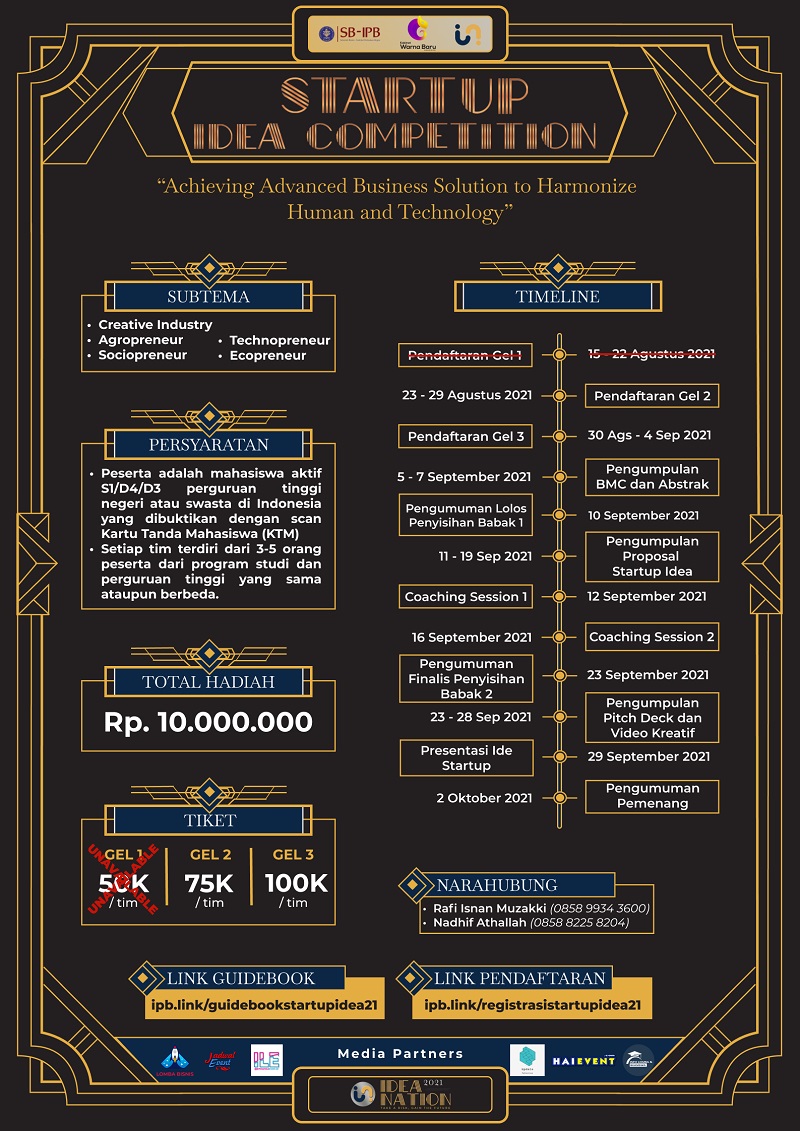 ‼️NATIONAL STARTUP IDEA COMPETITION‼️
School of Business IPB University Proudly Present
✨STARTUP IDEA COMPETITION✨
Startup Idea Competition merupakan salah satu rangkaian acara dari IDEANATION 2021 berupa kompetisi tingkat nasional yang diadakan oleh SB IPB University. Kompetisi ini akan memberi wadah untuk segala ide dari generasi milenial dalam perancangan new ventures yang bisa dikembangkan menjadi bentuk nyata berupa design product/prototype. Harapannya kompetisi ini bisa memantik semangat keberanian generasi milenial dalam memulai sebuah ide dan mimpi yang bermanfaat untuk Indonesia.
Tema yang diangkat pada kompetisi ini adalah "Achieving Advanced Business Solution to Harmonize Human and Technology" dengan 5 subtema menarik, yaitu:
Creative Industry
Agropreneur
Technopreneur
Ecopreneur
Sociopreneur
❗SYARAT & KETENTUAN❗
Mahasiswa/i D3 ataupun S1 di seluruh perguruan tinggi negeri dan swasta yang ada di Indonesia.
Setiap tim diperbolehkan berasal dari program studi serta perguruan tinggi yang sama ataupun berbeda.
Setiap tim terdiri atas 3-5 orang.
Periode Pendaftaran :
🗓️(CLOSED⛔️)Gelombang 1: 15 – 22 Agustus 2021(CLOSED⛔️)
🗓️ Gelombang 2: 23 – 29 Agustus 2021
🗓️ Gelombang 3: 30 Agustus – 4 September 2021
Biaya Pendaftaran :
💵 (CLOSED⛔️)Gelombang 1: Rp 50.000/tim(CLOSED⛔️)
💵 Gelombang 2: Rp 75.000/tim
💵 Gelombang 3: Rp 100.000/tim
Link Pendaftaran: http://ipb.link/registrasistartupidea21
Link Guidebook: http://ipb.link/guidebookstartupidea21
Raih kesempatan untuk memenangkan total hadiah senilai Rp 10.000.000🔥
Narahubung:
Nadhif Athallah (085882258204)
Rafi Isnan (085899343600)
Informasi selangkapnya cek Instagram @ideanationsbipb
So, don't miss this opportunity and join us to participating in making the greatest innovations 💯🤗