SMUN 4.0 : "Unzip Youth's New Fashioned Mind"
Tanggal:
D-day conference: 19 Juni 2021
Technical meeting: 18 Juni 2021
Tempat: Zoom Meeting
Pendaftaran: Rp. 50.000/orang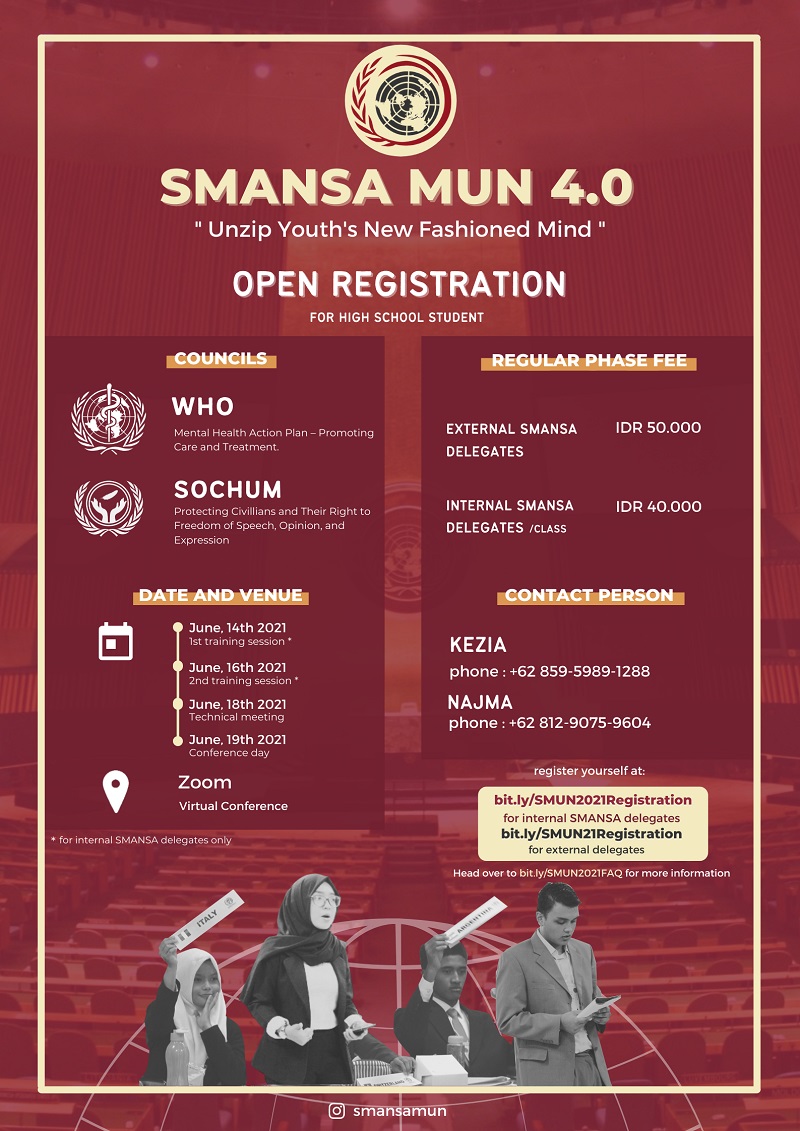 [ENGLISH CLUB SMAN 1 DEPOK]
We proudly presents…
✨ SMUN 4.0 : Unzip Youth's New Fashioned Mind✨
"`SMUN is Back!"` ?
Hello Youths! Do you want to feel the atmosphere of UN? Or want to broaden your skills on speech, debate, and negotiation? ?
Get ready to be the outstanding delegate by joining Smansa MUN for High Schooler. Here's for the schedule, please mark the date !!
? REGISTRATION
June 11th 2021 – June 14th 2021
? TECHNICAL MEETING
June 18th 2021
? CONFERENCE
?️Date : Saturday, June 19th 2021
?Place : Zoom meeting
For those who wonder, what is MUN??
Model United Nations is an educational simulation and academic activity in which students can learn about diplomacy, international relations, and the United Nations.
For SMUN 4.0, we present two councils :
✨ World Health Organization (WHO)
✨Social, Humanitarian, and Cultural (SOCHUM)
?Registration fee: IDR 50.000/delegate
? You can register yourself by clicking this link below?
http://bit.ly/SMUN21Registration
❓FAQ:
https://linktr.ee/smun2021
So, what are you waiting for? Prepare yourself for the better world!✨
?For more information check our Instagram account:
@ec1depok
@smansamun
?Or contact us:
?‍?Trixie : +6285959891288
?‍?Najma : +6281290759604