Pitch First 2021
Tanggal : 6 November 2021
Tempat : Online
Pendaftaran : Rp 250,000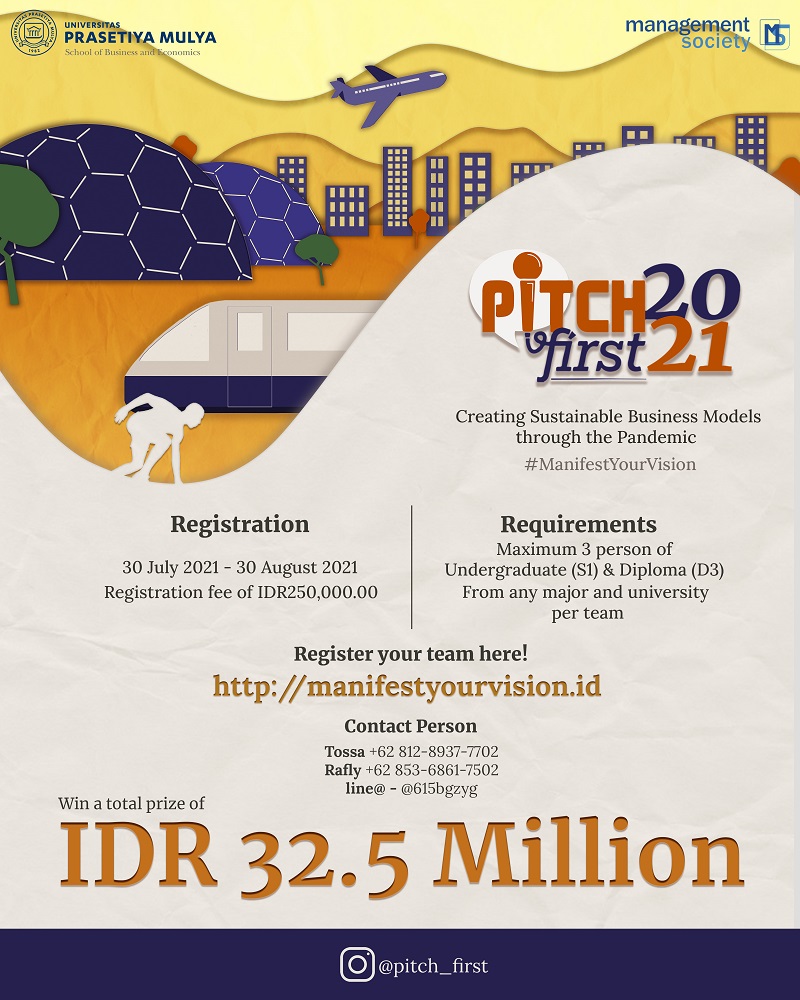 PITCH FIRST 2021
Pitch First is an annual business pitching competition for undergraduate students of bachelor and diploma/associate degree (S1/D4/D3). It is one of the series of events under Management Society, a student organization of Master Management of Universitas Prasetiya Mulya. This year we go beyond and accept participants in Southeast Asia (ASEAN).
Here you will have the chance to #manifestyourvision, link up with investors or business incubation programs, and win the total prize of 32.5 Million Rupiah!
Eligibility
Active undergraduate – bachelor, diploma/associate degree or S1/D4/D3 students from all
public or private universities in ASEAN
Each team consists of a maximum of three (3) members.
Team members are allowed to come from different majors and universities.
Timeline:
Registration period — July 30th – August 30th 2021 (Extended until 11 September 2021)
1st Technical meeting and pitching assignment — September 3rd 2021
Workshop — September 4th 2021
Executive summary and submission deadline — October 4th 2021
Semifinalist Announcement — October 25th 2021
Pitch Deck Submission — October 30th 2021
2nd Technical Meeting — November 5th 2021
Semifinal and Final round — November 6th 2021
Competition will be held online using online platform for our final day.
Winner Announcement:
The winner of this competition will be announced on the final day November 6th 2021!
To know more about Pitch First 2021, kindly click the links below
Important links: https://linktr.ee/pitchfirst2021
Website & Registration : https://manifestyourvision.id/
Contact: pitchfirst@prasetiyamulya.ac.id
Line@: @615bgzyg
Instagram: @pitch_first
Whatsapp: (+62)81289377702 (Tossa) or (+62)85368617502 (Rafly)