Open Registration OHS Competition
Tanggal: 31 Mei – 2 Juli 2021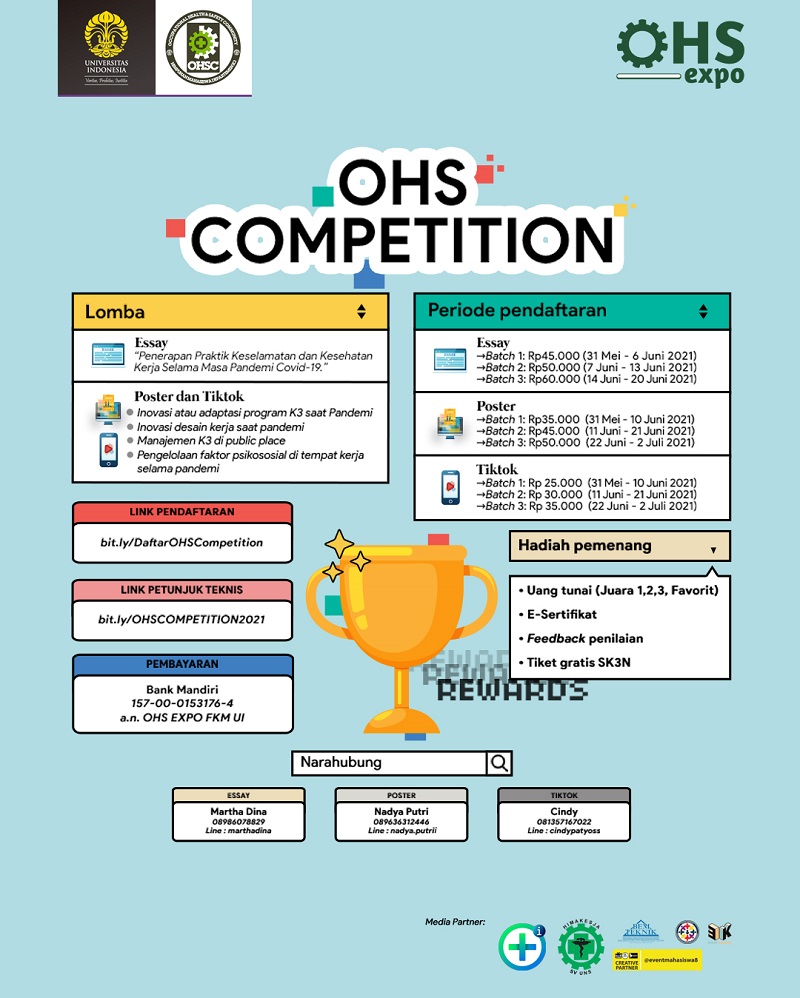 OPEN REGISTRATION OHS COMPETITION
Hello, Massa K3!
Pendaftaran OHS Competition telah dibuka! Tahun ini, OHS Competition akan mengadakan beberapa perlombaan, diantaranya:
Lomba Esai
Lomba Poster
Lomba TikTok
Tema Lomba Esai:
📌Penerapan praktik keselamatan dan kesehatan kerja selama masa pandemi COVID-19.
Tema Lomba Poster dan TikTok:
📌Inovasi atau adaptasi program K3 saat pandemi.
📌Inovasi desain kerja saat pandemi.
📌Manajemen K3 di public place (transportasi, tempat wisata, tempat belajar).
📌Pengelolaan faktor psikososial di tempat kerja selama pandemi.
Pemenang akan mendapatkan hadiah menarik🎁, yaitu:
Uang tunai
E-Sertifikat pemenang
Feedback penilaian
Tiket gratis Seminar K3 Nasional (SK3N)
E-Sertif bagi seluruh peserta lomba
💸Biaya pendaftaran lomba Batch I💸
📌Lomba Esai Rp45.000 (31 Mei-6 Juni 2021)
📌Lomba Poster Rp35.000 (31 Mei-10 Juni 2021)
📌Lomba TikTok Rp25.000 (31 Mei-10 Juni 2021)
Lomba dapat diikuti oleh perorangan atau kelompok (maksimal 2 orang) dan akan ada pemenang favorit untuk likes terbanyak! 👍
Are you ready to be next winner? Let's Join Us!!!
Info dan kontak:
Essay {Martha Dina (08986078829/Line: marthadina)}
Poster {Nadya Putri (089626312446/Line: nadya.putri)}
Tiktok {Cindy (081357167022/Line: cindypatyoss)}
OHS EXPO 12
•Working Together to Fight COVID-19•