Online training course "Writing Winning Proposal "
Dates: 15 – 23 June 2021
The place: online
Website: Training and Facilitation Skills | MDF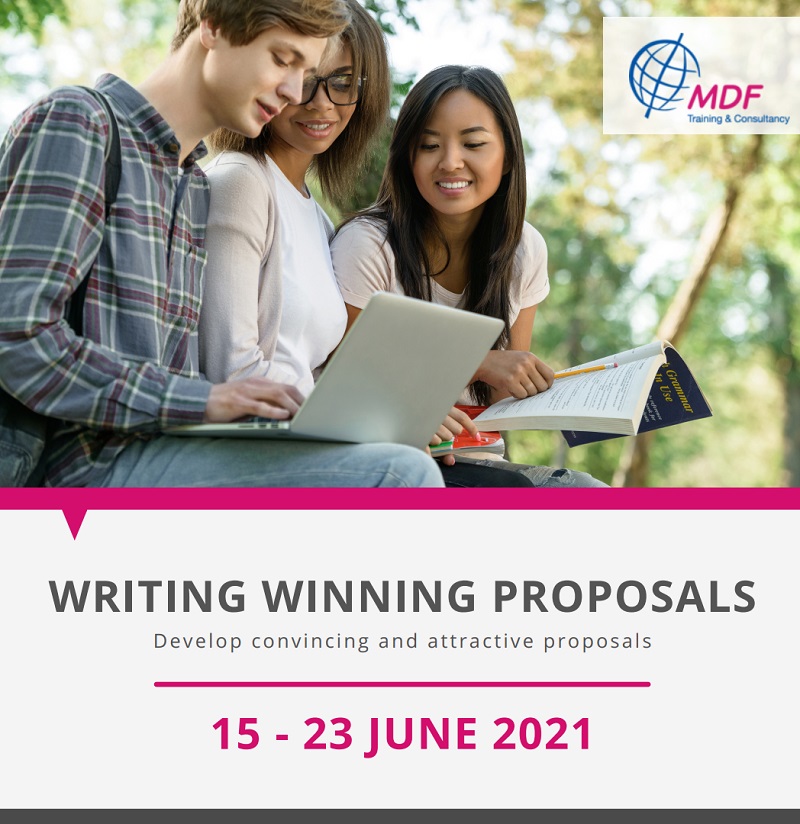 Course overview:
You have a project idea that needs funding. You want to respond to a Request for Proposal (RFP) or mobilise new resources for your organisation. You want to demonstrate your added value but are facing stiff competition.
Learn to write a proposal that stands out. We believe that writing a convincing and attractive proposal is a skill we all can master.
Course objectives:
By the end of the course, you will:
Learn how to match your unique proposal idea and added value to funders' needs.
Make sound GO/NO-GO decisions on opportunities.
Know how to bring needed logic and structure to your proposal and improve the writing process.
Understand the appraisal procedures and criteria that will be used to evaluate your proposal.
Practice and raise your confidence in proposal writing.
Who should join:
You are a manager or staff member working for a consultancy firm, an NGO, or government institute involved in writing project proposals or in responding to tender services.
Course schedule:
Daily start time: 9.00 am Netherlands time (tentative). Please convert this time into your local time. You will study half-day (3-4 hours) or full-day (6-8 hours) depending on each day's activities and exercises. The total training duration is 40 hours which is a combination of webinars, home-based exercises, and guided self-study.
Meet your trainers:
Mr. Floris van Zuilekom
Trainer/consultant
Email: fzu@mdf.nl
Ms. Michelle de Rijck
Trainer/consultant
Email: mri@mdf.nl
Essential information:
Course fee: 975 EUR (tax exempted)
Registration link: Writing Winning Proposals | MDF
Date: 15 – 23 June 2021
Registration deadline: 10 June 2021
Special offers:
5% early bird discount for payments completed by 20 April 2021
10% discount for alumni who have attended an MDF course within the past 2 years
1 FREE seat for a group of 6 registrations from the same organisation
Contact us
MDF Asia, Vietnam Office
Add: Room 501, A1 Building, Van Phuc Diplomatic Compound
298 Kim Ma Street, Ba Dinh District, Hanoi
Tel: +84 (0) 24 6258 4438
Email: mdfasia@mdf.nl