Online training course "Training & Facilitation Skills"
Dates: 12 – 16 April
The place: Online
Website: https://mdf.nl/training-and-facilitation-skills-online-0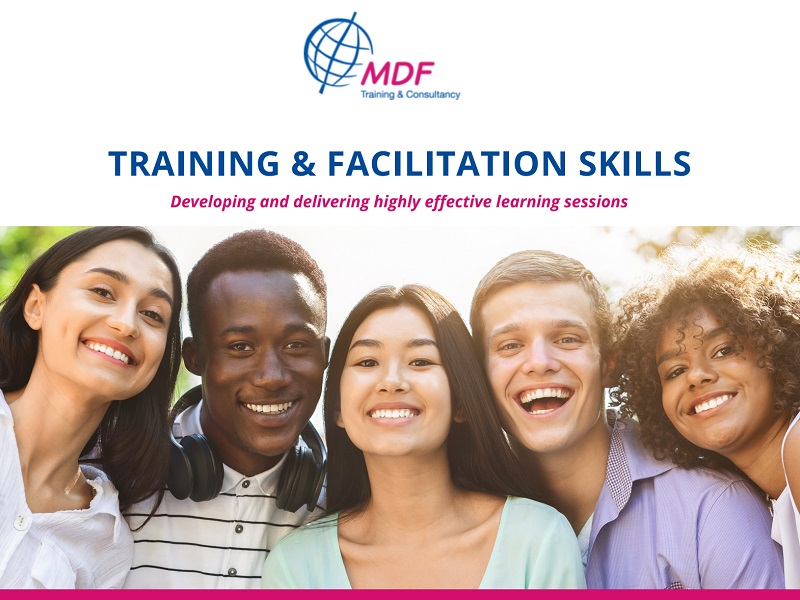 Many development professionals want to create social impact through behavior change. In this course, you will gain insights into the process of learning and how to develop effective training, practice various interactive training methods, and receive constructive feedback from peers and MDF professionals. The practice-oriented and blended approach facilitates the immediate application of new knowledge and skills for outcome-oriented training in your work.
Course objectives
By the end of this course, you will be able to:
Design outcome-oriented training and effective sessions, engaging your participants and affecting change
Explain and assess training needs and learning styles
Guide group processes and promote the full participation of each participant
Reflect on your experience of blended learning and develop ideas on how to use it yourself
Present and interact with a diverse audience
Explain why and how to evaluate the results of a training programme
Course agenda
The course starts with a 4-week online self-paced learning trajectory, which introduces the main concepts. This portion takes 2-3 hours per week. It will be followed by a 5-day virtual classroom training involving 10 sessions of 3 hours each. The course is based on a participatory, active learning approach, and combines guided virtual classroom sessions with guided self-study. The following topics will be covered in the course:
Day 1: Check-In: introduction; learning theories; roles of a trainer; the training cycle, pitch your case (max 10 minutes).
Day 2: Needs analysis and training design (program, objectives). Work on your case.
Day 3: From training program to session design: how to choose training methods and work out the details. Work on your case.
Day 4: Facilitation skills; why and how to use trainer notes. Work on your case to (partly) deliver on
day 5.
Day 5: Deliver your training session; why and how to evaluate the results of your training; check-out: your action plan, peer learning, and appreciation of the course.
Daily start time: 9.00 am (Netherlands time- tentative). Please convert this time into your local time.
Half-day sessions start in the morning.
Meet your trainers
Ms. Pauline van Norel
Trainer / Consultant
MDF Training & Consultancy, Netherlands Office
Ms. Jacinta Kariuki
Trainer / Consultant
MDF Training & Consultancy, Kenya Office
Ms. May Thet Kyaw
Trainer / Consultant
MDF Training & Consultancy, Myanmar Office
Essential information:
Course fee: 975 EUR (tax-exempted)
Registration: HERE
Date: 12 – 16 April 2021
Registration deadline: 19 March 2021
Special offers:
5% discount for early payments completed by 19 Feb 2021
10% discount for alumni who have attended an MDF course within the past 2 years
1 FREE seat fr a group of 6 registrations from the same organisation
Contact us
MDF Asia, Vietnam Office
Add: Room 501, A1 Building, Van Phuc Diplomatic Compound
298 Kim Ma Street, Ba Dinh District, Hanoi
Tel: +84 (0) 24 6258 4438
Email: mdfasia@mdf.nl