Omni-Channel Marketing Strategy for Start-up Business
Tanggal: 14 April 2022
Tempat: Online
HTM: Rp 150.000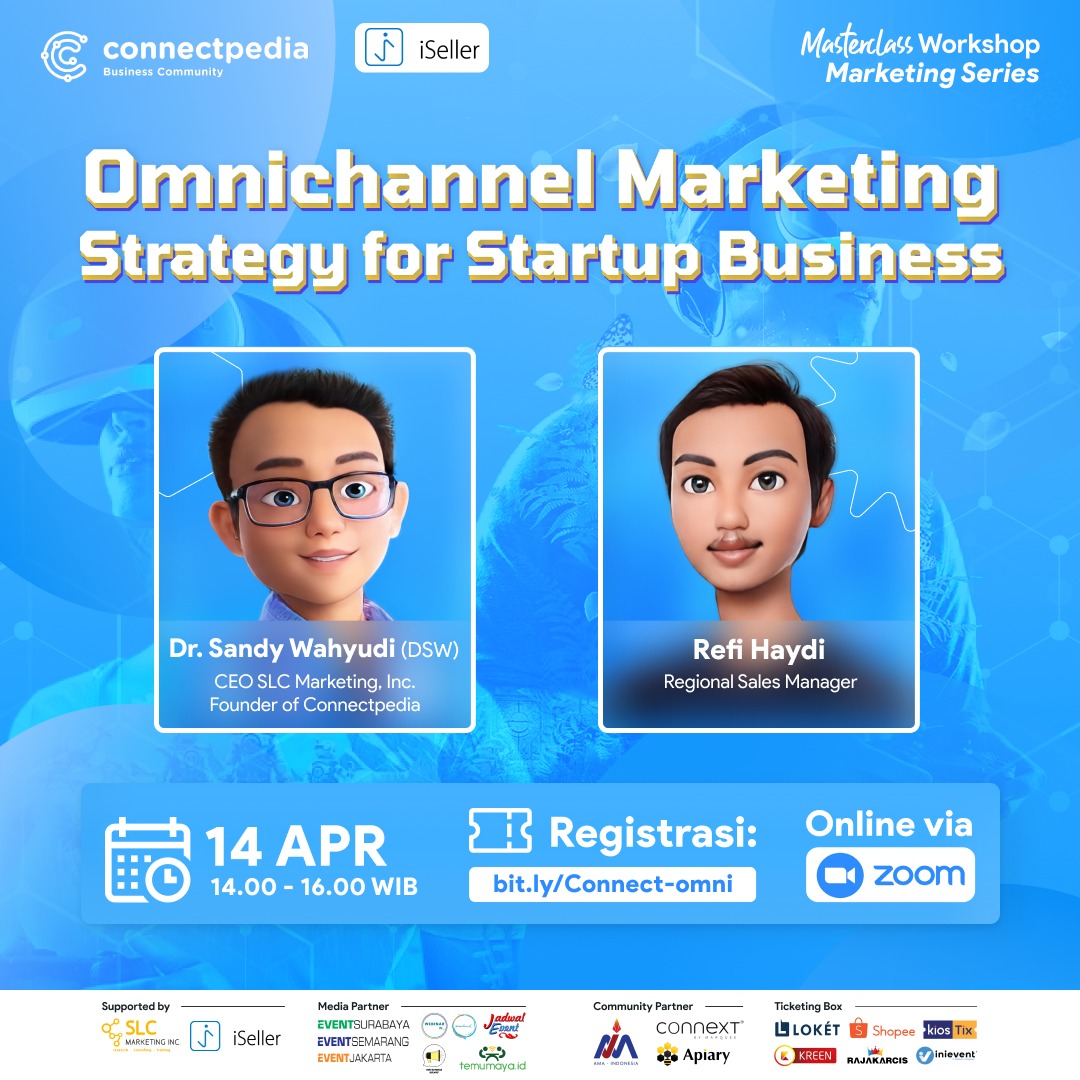 Dunia online saat ini terus berkembang pesat dan tentu berkaitan erat dengan perkembangan teknologi dan platform yang digunakan. Saat ini, pembelian barang mulai banyak bergeser menuju online, Anda bisa berbelanja kapan saja dimana saja tanpa perlu mampir ke toko offline, hal ini juga yang mempengaruhi beberapa retail mulai menutup toko fisiknya dan beralih ke online. ?
Dalam strategi marketing, terdapat istilah Omni-channel dan Multi-channel. Kedua istilah ini merupakan teknologi yang digunakan dalam mengembangkan perusahaan. Lalu apa beda keduanya? ?
Tahun 2022 ini banyak sekali pola kehidupan berubah, interaksi tatap muka sudah mulai kembali normal lagi. Perilaku konsumen untuk membeli barang sudah tidak sama lagi. Apa saja perubahan perilaku pelanggan saat ini?
Langkah-langkah apa yang harus Anda siapkan dalam menghadapi perubahan tersebut? ?
Yuk daftar sekarang di Masterclass Connectpedia!
Omni-Channel Marketing Strategy for Start-up Business
Save the date!
?️ Kamis, 14 April 2022
? 14.00-16.00 WIB
? Via Zoom Meeting
Speakers :
Dr Sandy Wahyudi (DSW)
CEO SLC Marketing, Inc. & Founder of Connectpedia
Refi Haydi
Regional Sales Manager of iSeller
Materi yang akan dibahas :
O2O Marketing / Offline to Online / Online to Offline
Web & Mobile apps
Video Marketing / Youtube
Google My Business
Social Media (IG, FB, Tiktok)
SMS Geofencing
Marketplace
Digital Payment
Virtual / Augmented Reality
Verified Whatsapp Blast
Many more..
Klik link berikut untuk registrasi??
https://bit.ly/Connect-omni
RSVP ?
Komunitas Connectpedia
WA: http://wa.me/6281357622902
Telegram: t.me/connectpedia