Mining Talks – ISOMETRIC 2021
Tanggal : 31 Juli dan 01 Agustus 2021
Tempat : Platform online meeting
HTM : Free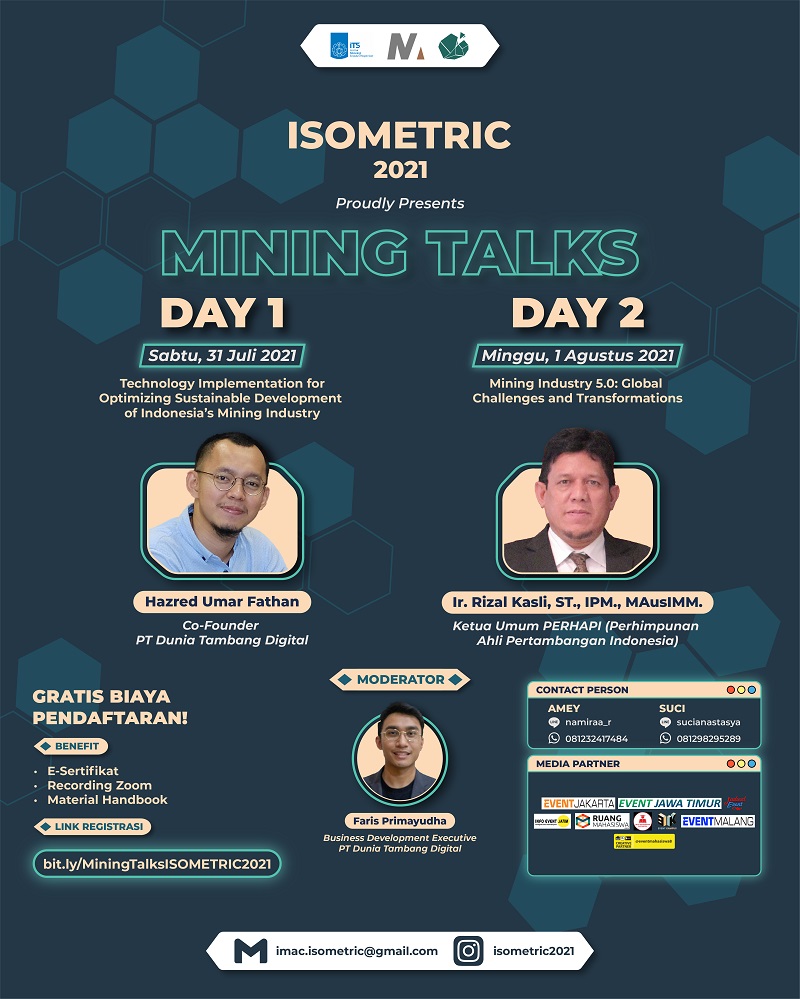 [OPEN REGISTRATION MINING TALKS]
Tertarik dan pengen belajar tentang industri pertambangan tapi bingung gimana caranya??
Mining Talks jawabannya!?
Menghadirkan para pembicara yang luar biasa ke dalam dua sesi Talkshow interaktif bertemakan:
Technology Implementation for Optimizing Sustainable Development of Indonesia's Mining Industry
Mining Industry 5.0: Global Challenges and Transformations
Mining Talks siap memperluas wawasan kamu seputar industri pertambangan!?
Yuk, catat waktu pelaksanaannya!
?Sesi 1: Sabtu, 31 Juli 2021
?Sesi 2: Minggu, 1 Agustus 2021
Talkshow ini GRATIS dan para peserta berhak mendapat fasilitas berupa:
✅Recording Zoom
✅Handbook Materi
✅E-Sertifikat?
Tunggu apa lagi? Daftar sekarang juga di http://bit.ly/MiningTalksISOMETRIC2021 dan ajak teman-teman kamu untuk berbagi wawasan dan keseruan bersama di Mining Talks!?
?For futher information:
Amey

ID LINE: namiraa_r
WA: 081232417484

Suci

ID LINE: sucianastasya
WA: 081298295289

Instagram: @isometric2021
Email: imac.isometric@gmail.com
A better mining industry for a better society!?