Limitless Horizon's 3rd Webinar "Break The Limit To Be Limitless"
❗ LIMITLESS HORIZON'S WEBINAR ❗
Hello, everyone!
Limitless Horizon invites you all future achievers to join our Webinar with the theme of : 'Break The Limit to be Limitless' ?✨
This webinar will give all of us so many inspirations in order to be limitless so that we can awaken our potentials ! ??
Who is our speaker you may ask? We have invited Mr. Dilshod Hamrobev and Ms. Xaviera Putri to be our speakers ?? They both are very inspiring students from Tajikistan and Indonesia who actively share their experience to influence youths to improve themselves ??
So mark your calendar fellas, because the event will be held in :
?️ Sunday, May 30th, 2021
? 11.00 – 1 PM (GMT+7)
? Mr. Dilshod Hamrobev and Ms. Xaviera Putri
? via Zoom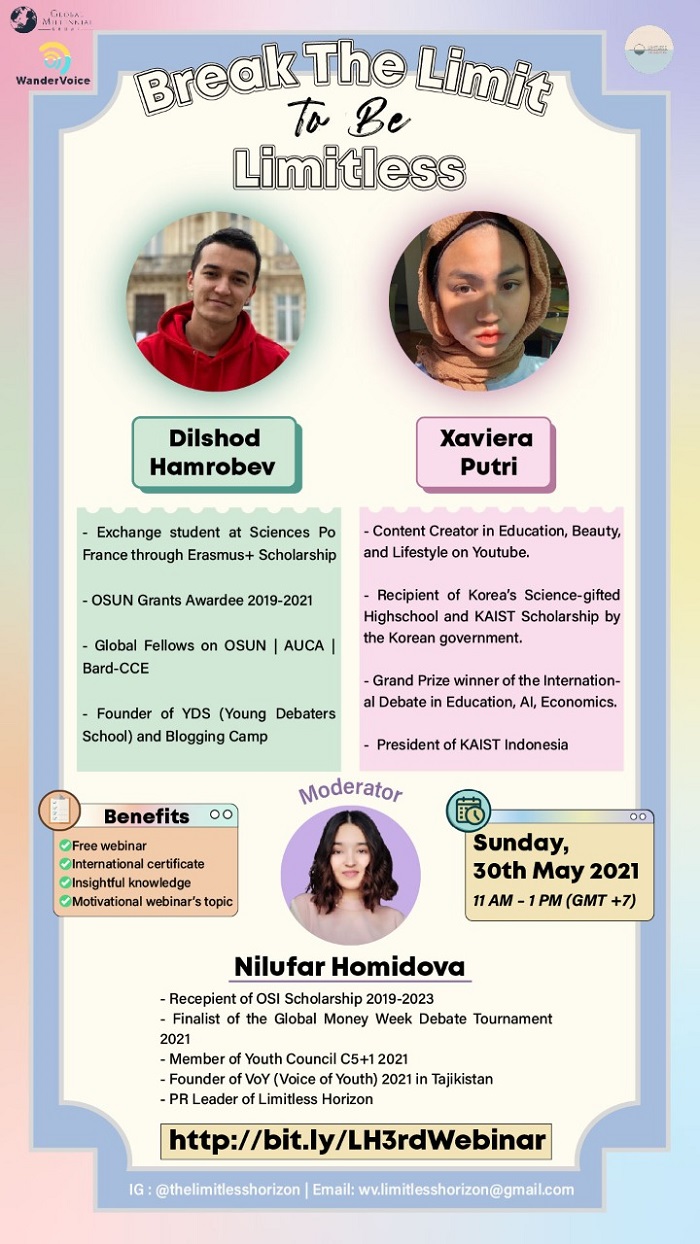 All participants will get the benefits of :
Free webinar
International certificate
Insightful knowledge
Isn't it exciting? ???
Don't forget to register yourself now here http://bit.ly/LH3rdWebinar !!
Sincerely,
Limitless Horizon.
---
For more details, please contact us down below
IG : @thelimitlesshorizon or @cintaberliann
Email : wv.limitlesshorizon@gmail.com