International Scientific Paper Competition (ISPC)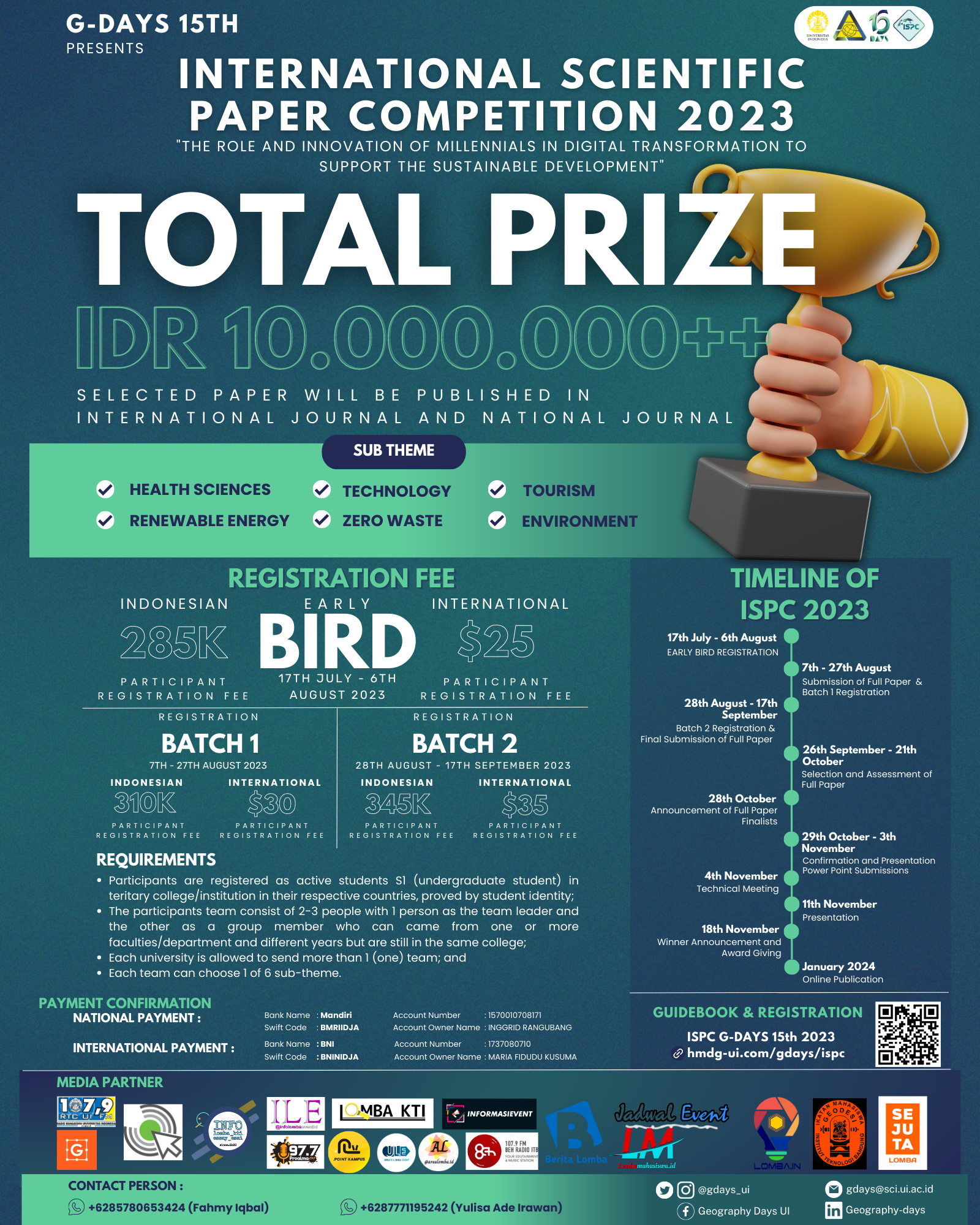 Judul: International Scientific Paper Competition (ISPC)
Tanggal:
Early Bird Registration: 17 July 2023 – 6 August 2023
Batch 1 Registration:
7 – 27 August 2023Batch 2 Registration: 28 August 2023 – 17 September 2023
Tempat: –
HTM: 285k
Caption Website : [CALLING FOR PARTICIPANTS]
As one of the biggest and oldest geography events held by geography students of The Department of Geography of the University of Indonesia, Geography Days (Gdays) is back in its 15th year. The registration for International Scientific Paper Competition (ISPC) is officially open. Don't miss the chance to bring out your potential and win millions of rupiah and get a free publication!
Check our website https://www.hmdg-ui.com/gdays/ispc





 to REGISTER our competition.
Here are the REGISTRATION PERIOD DATES for our competitions:
International Scientific Paper Competition (ISPC):Early Bird Registration: 17 July 2023 – 6 August 2023Batch 1 Registration: 7 – 27 August 2023Batch 2 Registration: 28 August 2023 – 17 September 2023
If you still have any questions regarding our events, please kindly contact us:
Yulisa (087771195242)Fahmy (085780653424)Stay in touch with our latest information and updates by following our social media:
OA Line: @foi8952hTwitter: @gdays_uiInstagram: @gdays_uiEmail: gdays@sci.ui.ac.idFacebook: Geography Day
The 15th GDAYS#AdaptingTheFuture #ConnectDevelopCreate #The15thGDays
Info dan kontak:
Yulisa (087771195242)Fahmy (085780653424)Stay in touch with our latest information and updates by following our social media:
OA Line: @foi8952hTwitter: @gdays_uiInstagram: @gdays_uiEmail: gdays@sci.ui.ac.idFacebook: Geography Day
Caption Sosmed :
[CALLING FOR PARTICIPANTS]
As one of the biggest and oldest geography events held by geography students of The Department of Geography of the University of Indonesia, Geography Days (Gdays) is back in its 15th year. The registration for International Scientific Paper Competition (ISPC) is officially open. Don't miss the chance to bring out your potential and win millions of rupiah and get a free publication!
Check our website https://www.hmdg-ui.com/gdays/ispc to REGISTER our competition.
Here are the REGISTRATION PERIOD DATES for our competitions:
International Scientific Paper Competition (ISPC):
Early Bird Registration:
17 July 2023 – 6 August 2023
Batch 1 Registration:
7 – 27 August 2023
Batch 2 Registration:
28 August 2023 – 17 September 2023
If you still have any questions regarding our events, please kindly contact us:
Yulisa (087771195242)
Fahmy (085780653424)
Stay in touch with our latest information and updates by following our social media:
OA Line: @foi8952h
Twitter: @gdays_ui
Instagram: @gdays_ui
Email: gdays@sci.ui.ac.id
Facebook: Geography Day
The 15th GDAYS