INCHALLxSummerCamp INGENIOUS 2023
Tanggal :
Registrasi : 8-31 Mei 2023
Premliminary stage : 2-9 Juni 2023
Road to final : 24-27 Juli 2023
Final : 28 Juli 2023
Tempat : Online (IE Fair Website) dan Industrial Engineering ITS Surabaya
Pendaftaran : IDR 350.000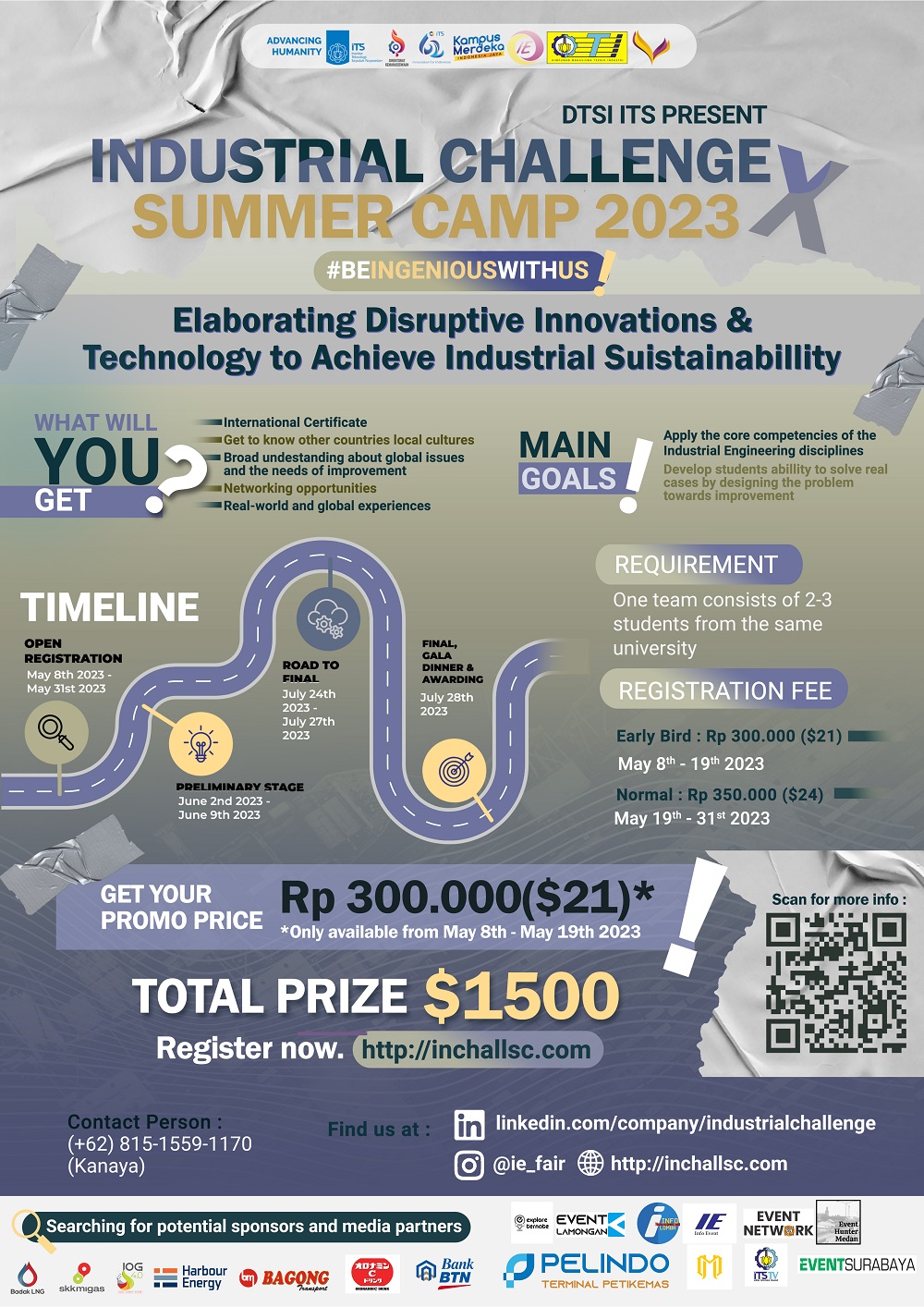 Hello, Industrializer!🖐
The biggest industrial competition in Asia, INCHALL x INGENIOUS Summer Camp 2023 with the theme of "Elaborating Disruptive Innovations & Technology to Achieve Industrial Sustainability", is already open for registration!
INCHALL will be collaborating with Summer Camp and come with fresh concept and challenging theme. Can't wait to face real case and actual topics of current industrial state? So what are you waiting for, Industrializer? Let's register your team (1 team consist of 2-3 students from the same university) now through this link:
http://inchallsc.com
🎁 What will you get?
Chance to win a total prize pool of $1500💵
International certificate
Get to know other countries local cultures
Broad understanding about global issues and the needs of improvement
Networking opportunities
Real-world and global experience
Don't miss our special price!!. Cause only until May 30, 2023, for IDR 350,000 ($24) you can get all the benefits we mentioned before. For more information about INCHALL x INGENIOUS SC 2023, you can access through https://linktr.ee/AllAboutINCHALLxSC2023
📍Keep yourself updated trough our social media for further information:
Instagram: @ie_fair
TikTok: iefairits
Website : inchallsc.com
Email : inchallsc2023@gmail.com
LinkedIn : linkedin.com/company/industrialchallenge
Youtube : iefairhmtiits