Free Webinar : CAREER TALK: What is the Most Important Skills in the Workplace? – SP Jain School of Global Management
Tanggal: Jum'at, 17 September 2021⁣⁣
Jam: 4.00 – 5.30⁣⁣
Tempat: Online via zoom
HTM: GRATIS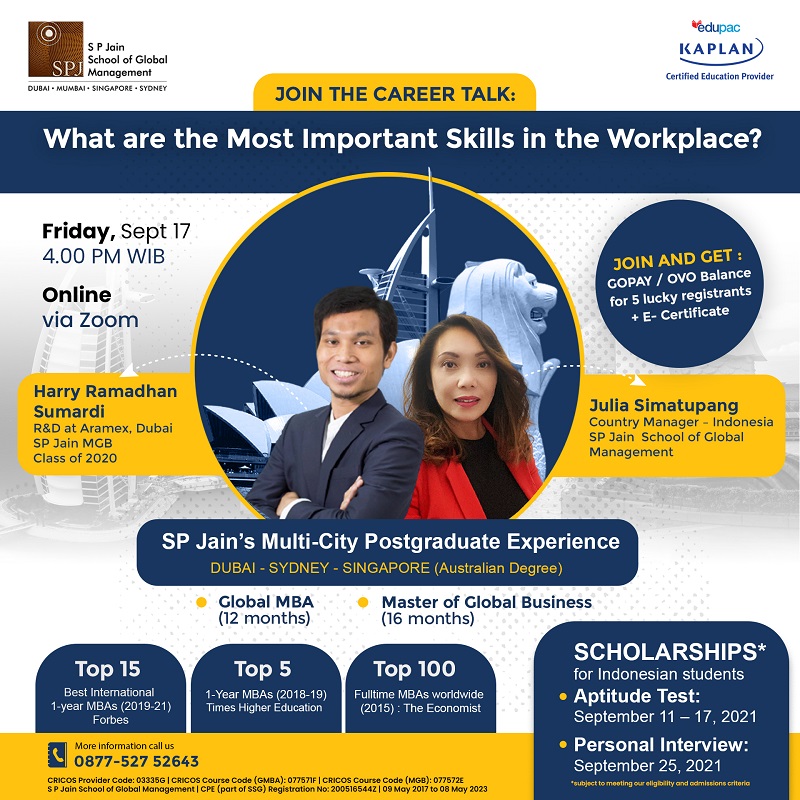 Kompetisi yang terjadi dalam dunia kerja membuat setiap pekerja ingin menunjukkan skills terbaik yang mereka punya. Apakah skill yang kamu punya saat ini termasuk ke dalam skill penting dalam dunia kerja ? Yuk cari tahu jawabannya di:
Career Talk
What is the Most Important Skill in the Workplace?
?️: Jumat, 17 September
? : 16.00 WIB
? : Zoom
Link Pendaftaran :
https://bit.ly/eventspjain
Dengan speakers:
?️ Harry Ramadhan Sumardi
R&D at Aramex, Dubai
SP Jain MGB class of 2020
?️ Julia Simatupang
Country Manager – Indonesia
SP Jain School of Global Management
✨ FREE saldo OVO atau Gopay bagi 5 partisipan yang beruntung
✨ FREE E-certificate by request
Selain mendapatkan tips jitu mengenai dunia kerja. Kamu juga berkesempatan untuk mendapatkan info mengenai SCHOLARSHIP yang diberikan oleh SP Jain
Yuk daftar sekarang!!
P.S. : Limited seats !!
Info :
0877-527 526 43
Kaplan Edupac Headquarter
AIA CENTRAL 21st floor
Jl. Jendral Sudirman Kav 48A,
Jakarta