Free Webinar : CAREER TALK: HOW TO MAINTAIN A WORK-LIFE BALANCE DURING THE PANDEMIC? – SP Jain School of Global Management
Tanggal: Jum'at, 22 Oktober 2021⁣⁣
Jam: 16.00 – 17.30 WIB
Tempat: Online
HTM: GRATIS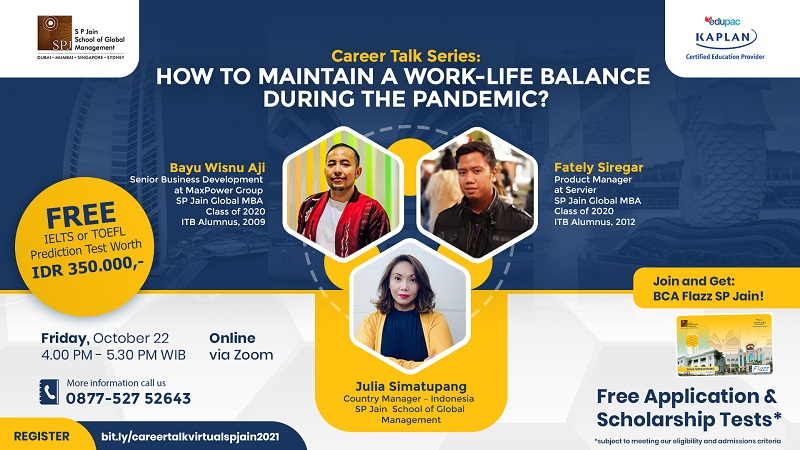 Pandemi yang berlangsung selama ini seringkali membuat kehidupan pribadi dan pekerjaan menjadi tidak imbang. Seringkali kita berfokus pada kehidupan pribadi dan melupakan pekerjaan kita, begitupun sebaliknya. Lalu, bagaimana caranya agar kita bisa mengatur waktu untuk bekerja dan untuk pribadi dengan baik? Yuk, temukan jawaban dan tipsnya di:
SP Jain Career Talk Series bersama Kaplan Edupac
HOW TO MAINTAIN A WORK-LIFE BALANCE DURING THE PANDEMIC?
🗓️: Jum'at, 22 Oktober 2021
🕓: 16.00 – 17.30 WIB
Daftar Disini :
📩: https://bit.ly/eventspjainokt21
Selain mendapatkan tips menarik yang bermanfaat, kamu juga berkesempatan untuk mendapatkan informasi seputar Beasiswa Kuliah Bisnis S2 di 3 negara loh (Dubai, Singapore, Sydney) yang diberikan oleh SP Jain! Gak hanya itu, kamu juga bisa mendapatkan benefit lainnya seperti yang ada dibawah ini :
✨FREE BCA Flazz Card untuk 5 orang yang beruntung
✨FREE Application & Scholarship Tests
✨FREE IELTS & TOEFL Prediction Test senilai IDR 350.000
Jadi, tunggu apalagi? Yuk daftar sekarang!!!
Info :
0877-527 526 43
Kaplan Edupac Headquarter
AIA CENTRAL 21st floor
Jl. Jendral Sudirman Kav 48A,
Jakarta Selatan