[Exclusive Workshop] Agile Team Coaching and Facilitating
Tanggal: 16 Mei 2022, 9:00 – 16:00 WIB
Tempat: Online via Zoom
HTM:
Presale, 5 – 19 April 2022, Rp350,000
Early Bird, 20 – 30 April 2022, Rp500,000
Normal Price, 1 – 15 Mei 2022, Rp950,000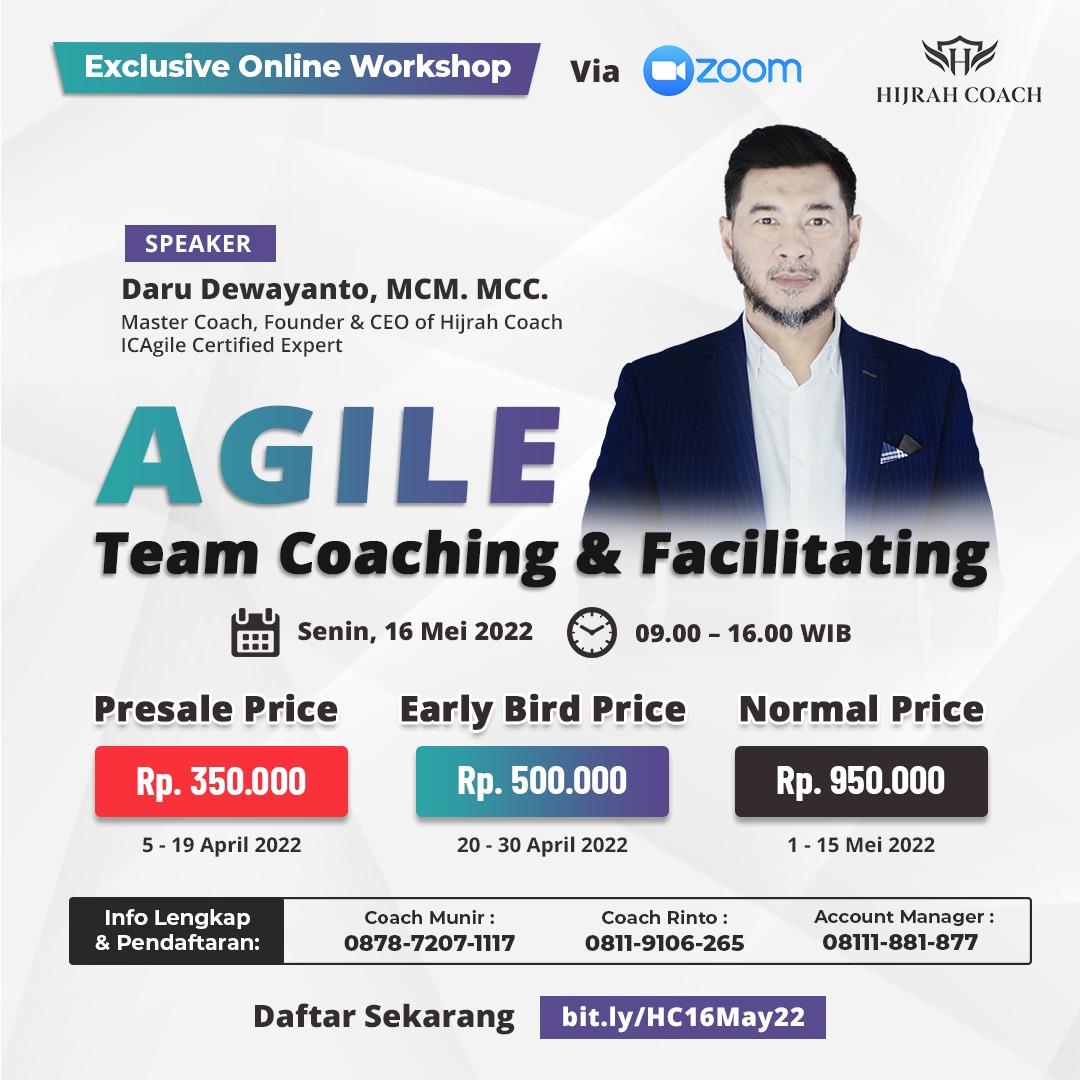 Setujukah Anda, bahwa di era disrupsi kemampuan Agility berpengaruh besar terhadap performa team dan bahkan organisasi?
Apabila Anda adalah Corporate Leader and Executive di Perusahaan swasta, BUMN atau Multi National Company, atau Anda adalah Aparatur Sipil Negara (ASN), HR atau Training Practitioner, ataupun Profesional Coach tentu sangat membutuhkan kemampuan Agile agar lebih adaptif & inovatif dalam menghadapi tantangan di masa depan.
❓ Lantas, bagaimana cara mengelola tim dan organisasi menjadi lebih Agile?
💡 Temukan jawabannya dengan mempelajari Agile Team Coaching & Facilitating bersama Hijrah Coach dalam:
✨ EXCLUSIVE ONLINE WORKSHOP: Agile Team Coaching and Facilitating ✨
Anda akan mempelajari:
📌 Business Agility
📌 Team Health Check Up
📌 Team Coaching Tools and Framework
📌 Team Facilitating Stance
📌 Online Collaboration & Practical Tools for Team Coaching (Trello and Mural)
Benefit yang Anda dapat:
☑️ Theory 30% & Practice 70%
☑️ Dibimbing langsung oleh IC Agile Expert – Agile Coach (ICE – AC) pertama dan satu-satunya di Indonesia)
☑️ Networking dengan leader dan eksekutif dari berbagai organisasi
☑️ Kesempatan mendapatkan special promo dan diskon program (up to 36%) certification Hijrah Coach.
☑️ E-Certificate
Catat tanggalnya:
📅 Senin, 16 Mei 2022
🕘 09.00 – 16.00 WIB
Online Session:
🏷 Presale Price: Rp 350.000,- (berlaku s.d 19 April 2022)
🏷 Early Price: Rp 500.000,- (berlaku dari tgl 20-30 April 2022)
🏷 Normal Price: Rp 900.000,- (berlaku dari tgl 1-15 Mei 2022)
Daftar sekarang di https://hijrahcoach.co.id/agile-team-coaching-and-facilitating-workshop/
Info lebih lanjut hubungi:
📲 0878 7207 1117 / 0811 9106 265 / 08111 881 877