ESo Goes To School Online 2022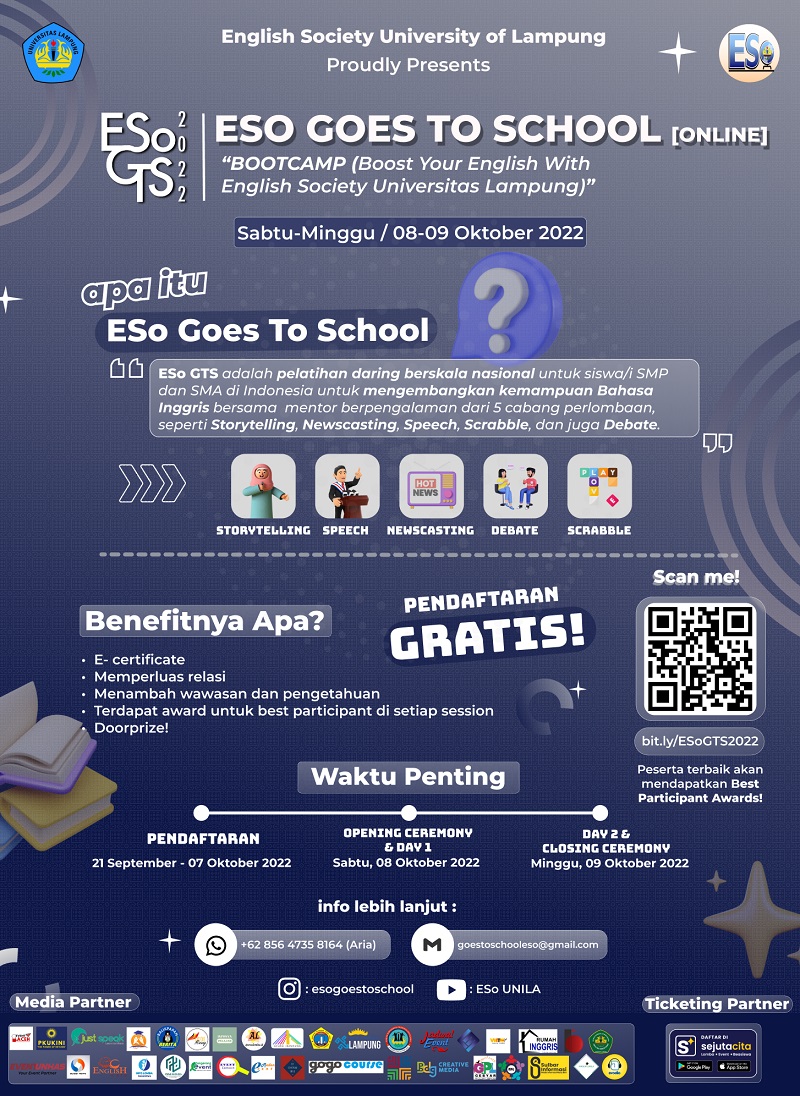 Good day, champs!
The wait is finally over! We proudly present to you an amazing event
??? ???? ?? ?????? ?????? ????
"BOOTCAMP (Boost Your English With English Society Universitas Lampung)"
ESo Goes To School is a national scaled english training to improving your english skill with a lot of benefit, such as:
E- certificate
Grow your network
Inhance your knowledge and experience
Best participants awards in every branch
Doorprize!
Get ready to join the hype! Mark the date :
? : Saturday & Sunday
? : 8 – 9 October 2022
? : Online via Zoom Meeting
? : FREE
?Close Registration?: 7 October 2022
Terms to join the event :
1. Follow IG accounts of @englishsocietyunila @esogoestoschool and @lovecomp2022
2. Subscribe to ESo UNILA on youtube
3. Share poster and caption to 2 active groups
4. Upload twibbon to your personal instagram
5. Upload registration form
So, what are you waiting for? Click link down below to register
https://bit.ly/ESoGTS2022
Contact person : +62 856-4735-8164 (Aria)
Instagram : @esogoestoschool
Email : goestoschooleso@gmail.com
#ESoGTS #ESoGTS2022 #ESoUnila⁣
#English #NationalScaled #Online⁣ #Scrabble #Speech #Newscasting #StoryTelling #Debate #UniversitasLampung #Unila⁣ #Lampung #Sumatra #indonesia