DHSCE Webinar – UPDATING CLINICAL SKILL IN THE NEW ERA OF DENTISTRY
Tanggal: 6 Juni 2021
Tempat: Zoom Meeting
HTM: 35-55k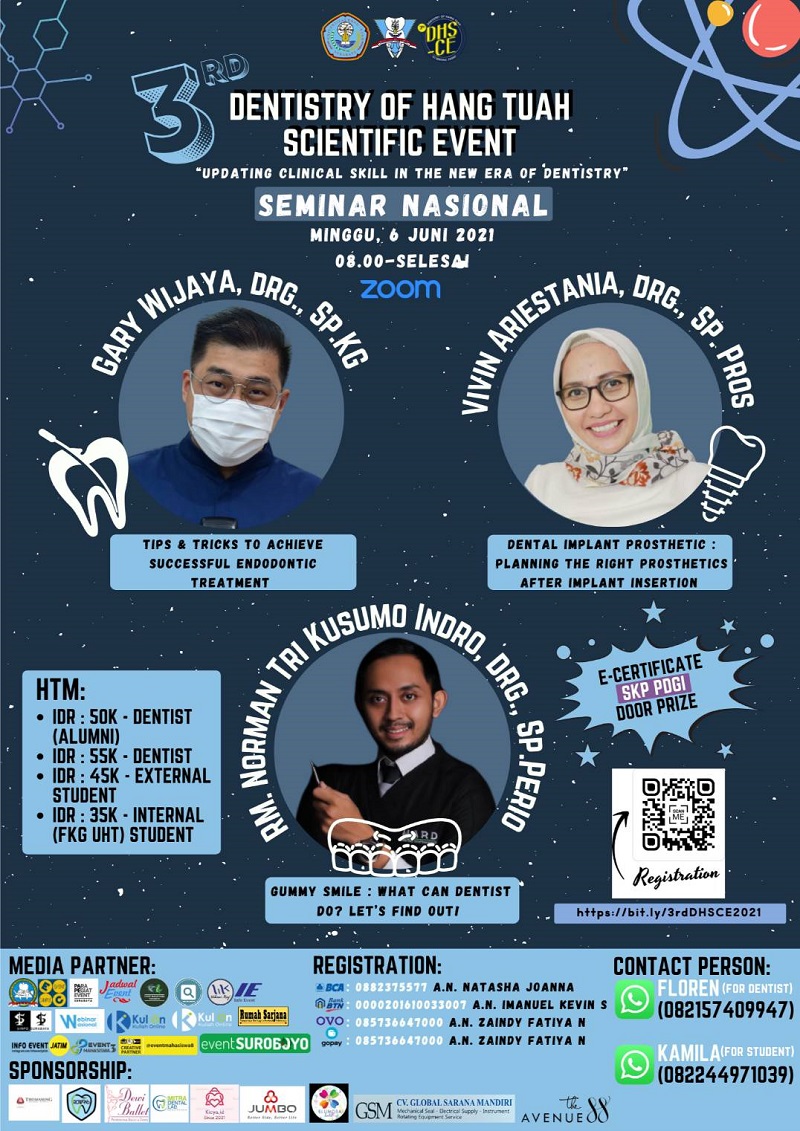 [ FACULTY OF DENTISTRY HANG TUAH UNIVERSITY PROUDLY PRESENT ]
💡WEBINAR 3RD DHSCE 2021💡
UPDATING CLINICAL SKILL IN THE NEW ERA OF DENTISTRY
"Be Creative, Innovative, and Evolve in The New Era of dentistry"
🗣️ With Our Inspiring Speaker 🗣️
🎧 Gary Wijaya, drg., Sp. KG
Tips & Trick to Achieve Successful Endodontic Treatment
🎧 Vivin Ariestania, drg., Sp. Pros
Dental Implant Prosthetic : planning The Right Prosthetic After Implant Insertion
🎧 RM. Norman Tri Kusumo Indro, drg., Sp. Perio
Gummy Smile : What Can Dentist Do? Let's Find Out!
📣 SAVE THE DATE 📣
📍 Sunday, 06 June 2021
🕖 08.00 – Finish WIB
💻 VIA ZOOM MEETING
💸REGISTRATION FEE : 💸
IDR : 50k – Dentist (Alumni)
IDR : 55k – Dentist
IDR : 45k – External student
IDR : 35k – Internal (fkg uht) student
Registration payment through:
💰BCA : 0882375577 a.n. Natasha Joanna S
💰BTN : 0000201610033007 a.n. Imanuel Kevin S
💰OVO : 085736647000 a.n. Zaindy Fatiya N
💰Gopay : 085736647000 a.n. Zaindy Fatiya N
📨 E-CERTIFICATE
📢 SKP PDGI
🎁 DOOR PRIZE
🔺🔻🔺🔻🔺🔻🔺🔻🔺
📝 Registration Link 📝
https://bit.ly/3rdDHSCE2021
Until 5 JUNE 18.00 WIB
@dhsce.fkguht
@bemfkguht
@fkguht
📳 Contact Person 📳
📞 Floren – 082157409947 (Dentist)
📞 Aisyah – 082336697193 (Dentist)
📞 Kamila – 082244971039 (Student)
📞 Septy – 082131503278 (student)