[CALL FOR PAPERS Road to Indonesia G20 Presidency 2022]
Indonesia akan menjadi tuan rumah atau Presidensi Konferensi Tingkat Tinggi G20 (KTT G20) di tahun 2022. Dalam rangka mempersiapkan Presidensi G20 Indonesia tahun 2022, khususnya untuk menggali ide-ide baru dan terkini sehingga dapat menjadi salah satu materi rujukan bagi Indonesia dalam menyusun berbagai agenda di Jalur Keuangan (Finance Track) G20, Badan Kebijakan Fiskal Kementerian Keuangan bekerja sama dengan Fakultas Ekonomi dan Bisnis Universitas Airlangga akan menyelenggarakan Call for Papers (CFP) dengan tema "Strengthen Recovery For a More Productive, Stable, Resilient, Inclusive and Sustainable Economy".
Kami mengundang berbagai kalangan untuk menyampaikan karyanya agar presidensi ini betul-betul mampu menciptakan pemulihan global yang lebih kuat, memiliki pondasi yang lebih kompetitif, produktif, dan berkelanjutan.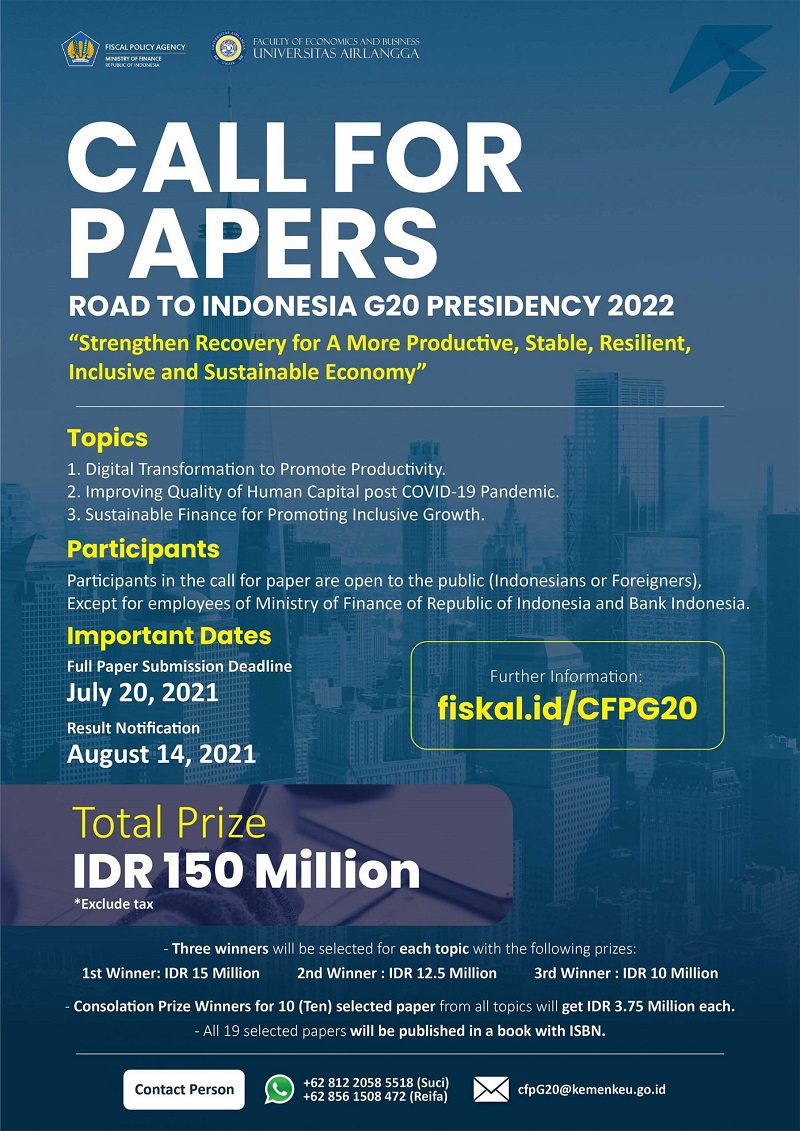 🗓Tanggal Penting:
▪️Batas akhir pengumpulan full paper: 20 Juli 2021
▪️Pengumuman pemenang: 14 Agustus 2021
📃Biaya Pendaftaran & Publikasi:
GRATIS
🎁Total hadiah:
Rp150.000.000,00
📞Contact Person:
Suci – 081220585518
Reifa – 08561508472
📩e-mail:
cfpG20@kemenkeu.go.id
Info lengkap kunjungi: http://fiskal.id/CFPG20