Brandtalk: The Essentials of Innovation: Ideation and Growth
Tanggal: 9 September 2021
Tempat: Online
HTM: FREE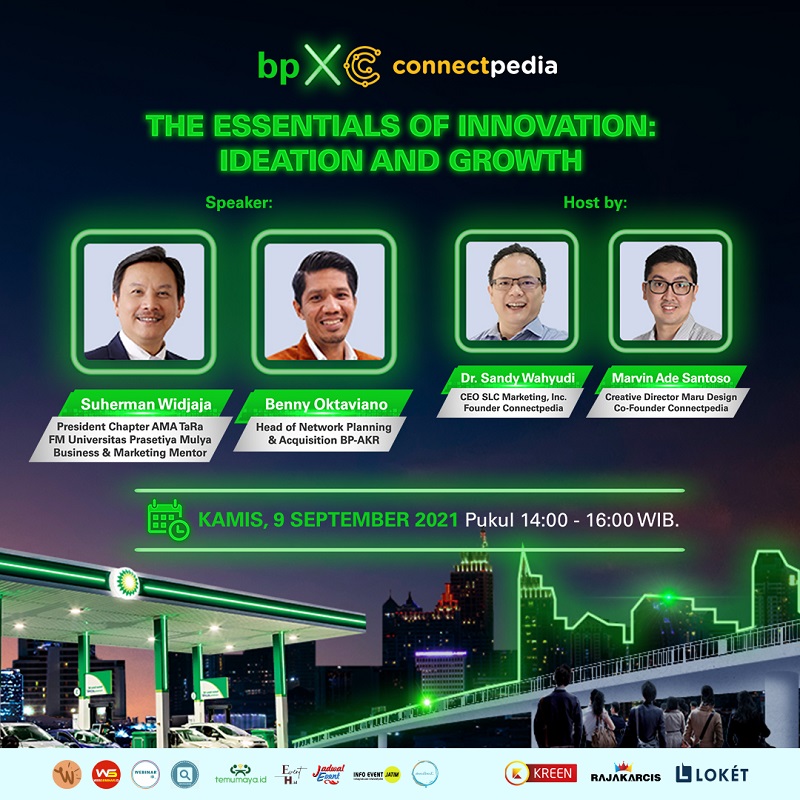 Dengan pandemi COVID-19 yang berkepanjangan, kolaborasi dan inovasi menjadi satu kunci bisnis untuk bertahan.
bp Indonesia berkomitmen untuk menghadirkan semangat inovasi dan kolaborasi aktif dengan para pengusaha lokal untuk menangkap peluang di tengah pandemi ini.
bp berkolaborasi dengan Connectpedia akan mengadakan webinar dengan topik:
The Essentials of Innovation: Ideation and Growth
Kamis, 9 September 2021
14.00 – 16.00 WIB
Bersama :
Suherman Widjaja
President Chapter AMA TaRa
FM Universitas Prasetiya Mulya Business & Marketing Mentor
Benny Octaviano
Head of Network Planning and Acquisition BP-AKR
Dengan host dan moderator langsung oleh kedua founder Komunitas Connectpedia :
Dr. Sandy Wahyudi DSW
CEO SLC Marketing, Inc &
Marvin Ade Santoso
Creative Director Maru Design
Yuk para entrepreneur Indonesia, daftarkan dirimu untuk mengerti lebih jauh tentang inovasi serta kolaborasi ini dan ikut ambil bagian untuk Indonesia yang lebih cerah bersama bp!
FREE !! TAPI SLOT TERBATAS !!
Registrasi segera di : https://bit.ly/CNBP09
#EveryDayBrighter.
RSVP Komunitas Connectpedia
WA: http://wa.me/6281357622902
Telegram: t.me/connectpedia