The New Growth Game of Innovation
Tanggal: 22 September 2022
Tempat: Cohive Voza lt 20, Surabaya
HTM: Rp 150.000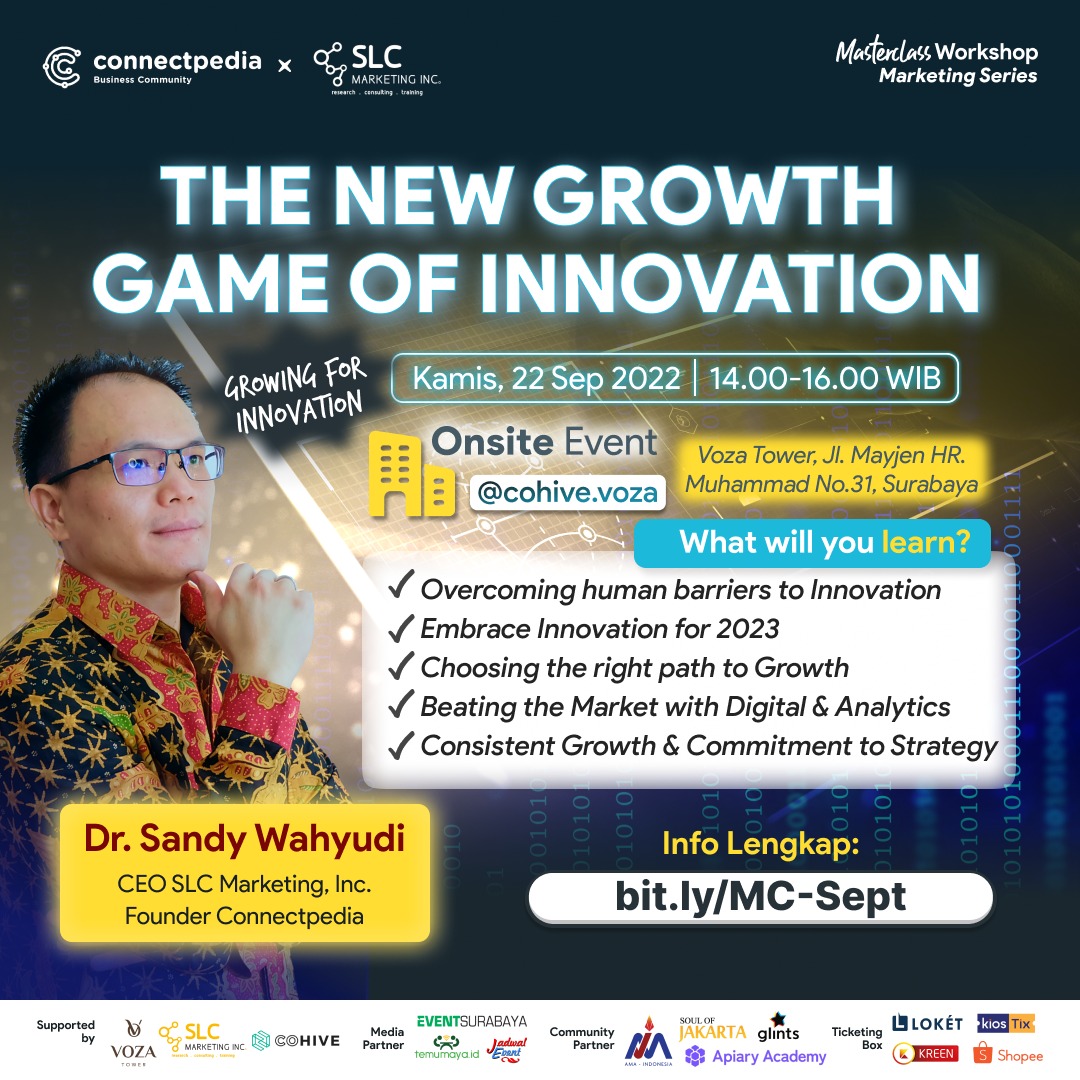 2023 Gelap, sudah siapkah Bisnis kita menghadapinya? 👊🏻
Pergolakan ekonomi di 2023 mendatang lebih sulit dari 2022, mulai dari potensi krisis pangan & energi, isu kemunculan varian Covid baru, perang China-Taiwan, disrupsi suplai dan volatilitas harga bahan baku yang memberi ketidakpastian pada tingkat inflasi, dll.
Pemilik bisnis dituntut untuk terus berinovasi agar tetap bertumbuh di 2023! Tidak bisa pakai cara lama, Inovasi yang sukses dilakukan di 2022, belum tentu bisa sukses dipakai di 2023!
Nah, dalam Masterclass Connectpedia The New Growth Game of Innovation, kita akan mengupas tuntas tentang :
✔️ Menaklukan resistensi karyawan untuk berinovasi
✔️ Siap merangkul Inovasi di 2023
✔️ Memilih jalur Inovasi yang tepat untuk bertumbuh
✔️ Memenangkan pasar dengan analisis digital yang akurat
✔️ Pertumbuhan konsisten & komitmen pada strategi Inovasi yang Baru
WAJIB HADIR C-Level & Business Owner!!
🗓️ Kamis, 22 September 2022
🕑 14.00-16.00 WIB
📍ONSITE di Cohive Voza lt 20, Surabaya
Speaker :
Dr. Sandy Wahyudi DSW
CEO SLC Marketing, Inc.
Founder of Connectpedia
Book yours, NOW! Slot terbatas‼️
Klik link berikut untuk registrasi:
https://bit.ly/MC-Sept
RSVP 📲
Komunitas Bisnis Connectpedia
WA: http://wa.me/6281357622902
Telegram: t.me/connectpedia