THE 19TH CENS UI NATIONAL SUMMIT
Tanggal: Minggu, 12 Maret 2022
Tempat: Zoom Meeting
HTM: Tidak ada hanya registrasi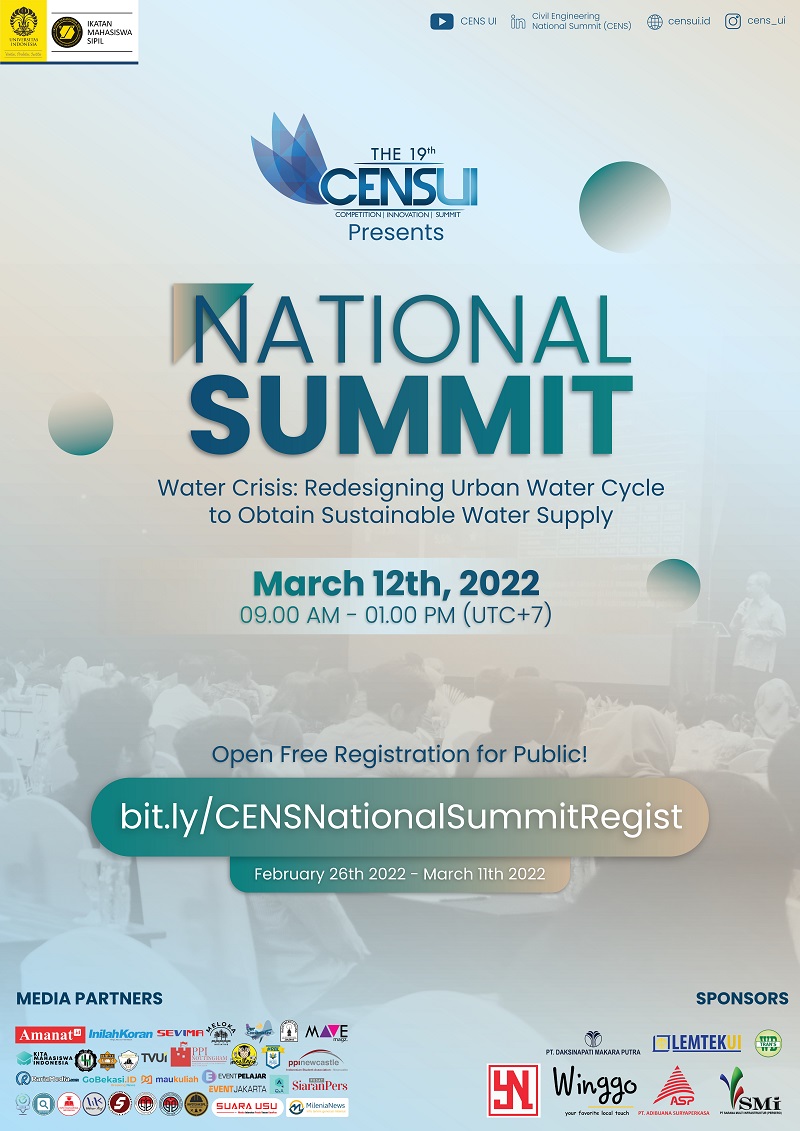 [THE 19TH CENS UI NATIONAL SUMMIT]
The day has finally come. Civil Engineering National Summit UI this year will bring you to our annual summit. Our summit aims to create awareness of people to the issue that we brought every year.
For this year, we bring you the most unspoken urgency in this world, the urban water crisis. Urban development led to the imbalance of water supply and demand which cause the water crisis, especially in Jakarta.
Fighting on this water crisis issue, we would like to invite you to the 19th CENS UI National Summit to talk about "Water Crisis: Redesigning Urban Water Cycle to Obtain Sustainable"
This event would be held on:
Date: March 12th, 2022
Time: 9.00-13.30 UTC+7
Platform: Zoom Cloud Meetings
If you are interested to attend, please fill out the link below
https://bit.ly/CENSNationalSummitRegist
See you at the summit!
For further information:
Website: censui.id
Instagram & Tiktok: cens_ui
Twitter: @ui_cens
Linkedin: Civil Engineering National Summit (CENS)
Facebook: @the19thcensui
OA Line: @002voaaj
Youtube: CENS UI
Or you can click the link below:
https://linktr.ee/the19thCENSUI