SMANSA MUN 5.0 : "The Voice of Youth, Brighten Up The World"
Tanggal:
Technical meeting & Training session : 24 Juni-25 Juni 2022
D-day conference: 2 Juli 2022
Tempat: Zoom meeting
HTM: 50k/orang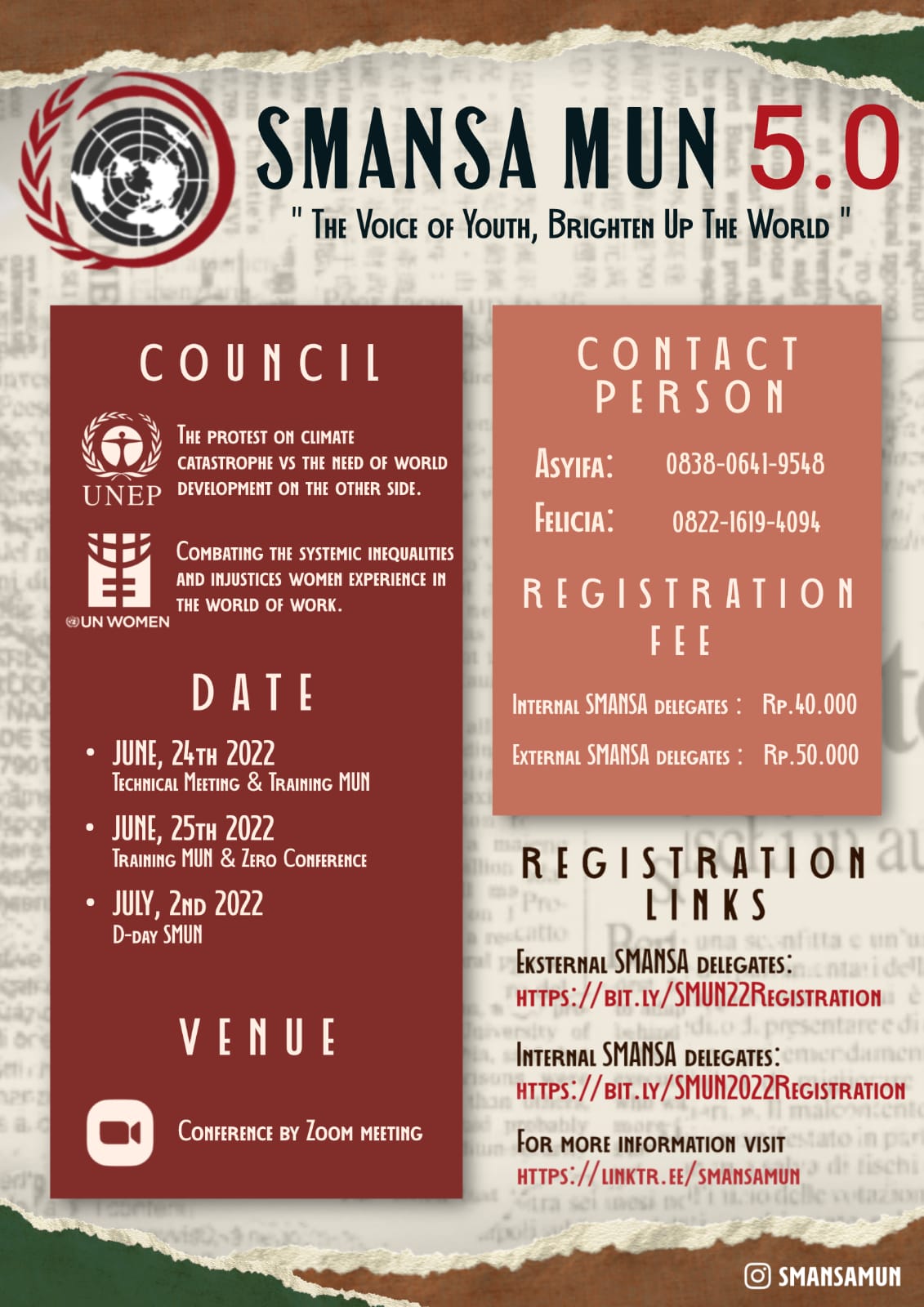 ENGLISH CLUB SMAN 1 DEPOK
Proudly presents…
✨ SMANSA MUN 5.0 ✨
SMUN is Back! ?
Hello Youths! Do you want to feel the atmosphere of UN? Or want to broaden your skills on speech, debate, and negotiation? ??
Get ready to be the outstanding delegate by joining Smansa MUN for High Schooler. Here's for the schedule, please mark out your calendar !!
? REGISTRATION
June 2nd 2022 – June, 18th 2022
? TECHNICAL MEETING
June 24th 2022
? TRAINING MUN
June 24th 2022 – June 25th 2022
? CONFERENCE
?️Date : Saturday, July 2nd 2022
?Place : Zoom meeting
For those who wonder, what is MUN??
Smansa Model United Nation or SMUN is a simulation of united nation assembly which held by SMAN 1 Depok. You can practicing critical thinking, practicing negotiating, practicing public speaking, and increase knowledge about current issues in the world ?
For SMUN 5.0, we present two councils :
✨ UN WOMEN : Combating the systemic inequalities and injustices women experience in the world of work.
✨UNEP: The protest on climate catastrophe vs the need of world development on the other side.
?Registration fee:
• IDR 50.000/ external SMANSA Depok delegate
? You can register yourself by clicking this link below?
Link Regist Eksternal :
https://bit.ly/SMUN22Registration
Link Regist Internal :
https://bit.ly/SMUN2022Registration
❓FAQ:
https://linktr.ee/smansamun
So, what are you waiting for? Prepare yourself for the better world!✨
?For more information check our Instagram account:
@ec1depok
@smansamun
?Or contact us:
?‍?0838-0641-9548 ( Asyifa )
?‍?0822-1619-4094 (Felicia)