ICOMITEE 2021
Deadline Full Paper: 1 Juli 2021
Tempat: Hybrid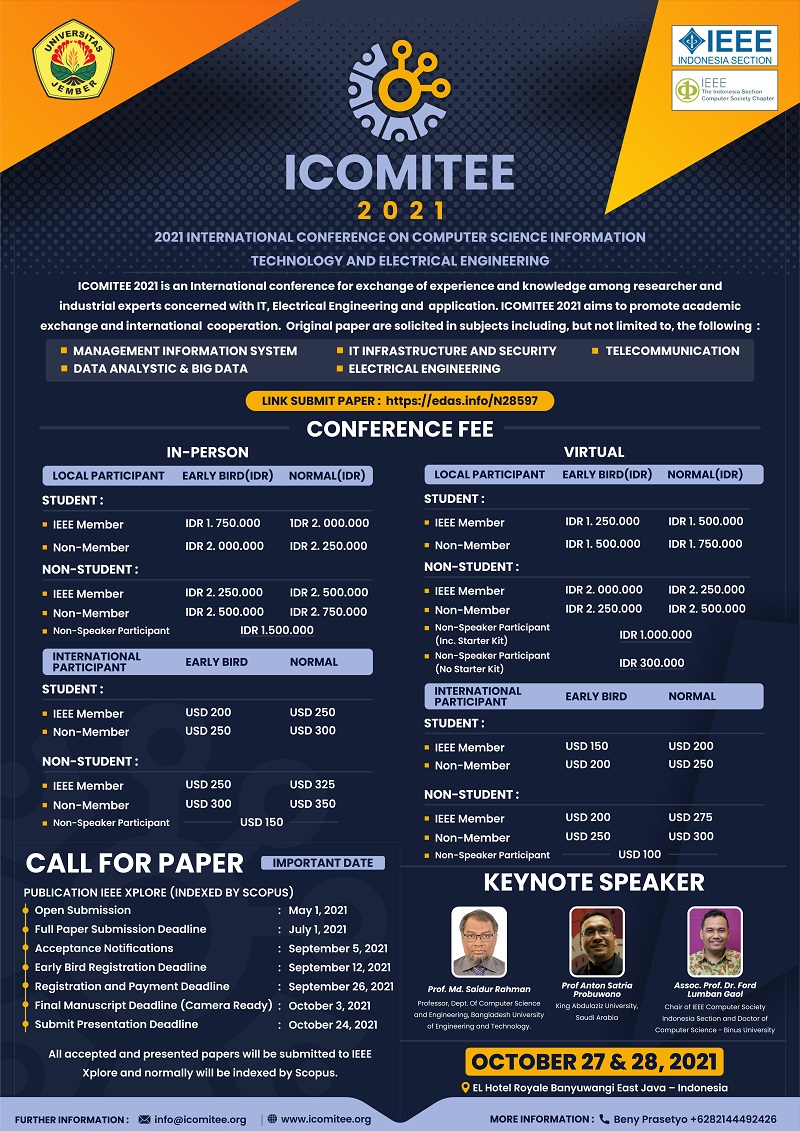 The International Conference on Computer Science, Information Technology and Electrical Engineering (ICOMITEE) is back !!! 🔥🔥🔥
After being successful at the first ICOMITEE event in 2019, this year ICOMITEE is back. The ICOMITEE 2021 will be held in a Hybrid (Online and Offline) with a very strict application of health protocols and has been CHSE certified.
We are pleased to invite you to attend the 2021 International Conference on Computer Science, Information Technology and Electrical Engineering (ICOMITEE 2021) which will be held in Banyuwangi, Indonesia on 27th-28th of October, 2021. The ICOMITEE 2021 is organized by Faculty of Computer Science, University of Jember in collaboration with the IEEE Indonesia Section and the IEEE Computer Society Indonesia Chapter. This conference has been approved by IEEE and can be found at IEEE conferences events here: https://conferences.ieee.org/conferences_events/conferences/conferencedetails/53461
The ICOMITEE 2021 is intended to provide technical forum and research discussion related to advanced engineering on electrical & electronics, computer science and informatics. This conference is aimed to bring researchers, academicians, scientists, students, engineers and practitioners together to participate and present their latest research finding, developments and applications related to the various aspects of Information System Management, Data Analytics & Big Data, IT Infrastructure and Security, Electrical and Telecommunication. All accepted and presented papers will be submitted to be published at the IEEE Xplore which will be indexed by Scopus.
🗓️ Conference Date : 27-28 Oktober2021
📍 Venue : El Hotel Royale Banyuwangi, Jawa Timur
🔥 Submission Deadline : 1 Juli 2021
🔥 Submission Link : https://edas.info/N28597
More info :
🌐 icomitee.org
📞 Beny Prasetyo (+62.82144492426)
📩 info@icomitee.org
Warm regards, ICOMITEE UNEJ