Assyifa Festival 2021
Tanggal: 21-27 Februari 2021
Tempat: Online
HTM: Free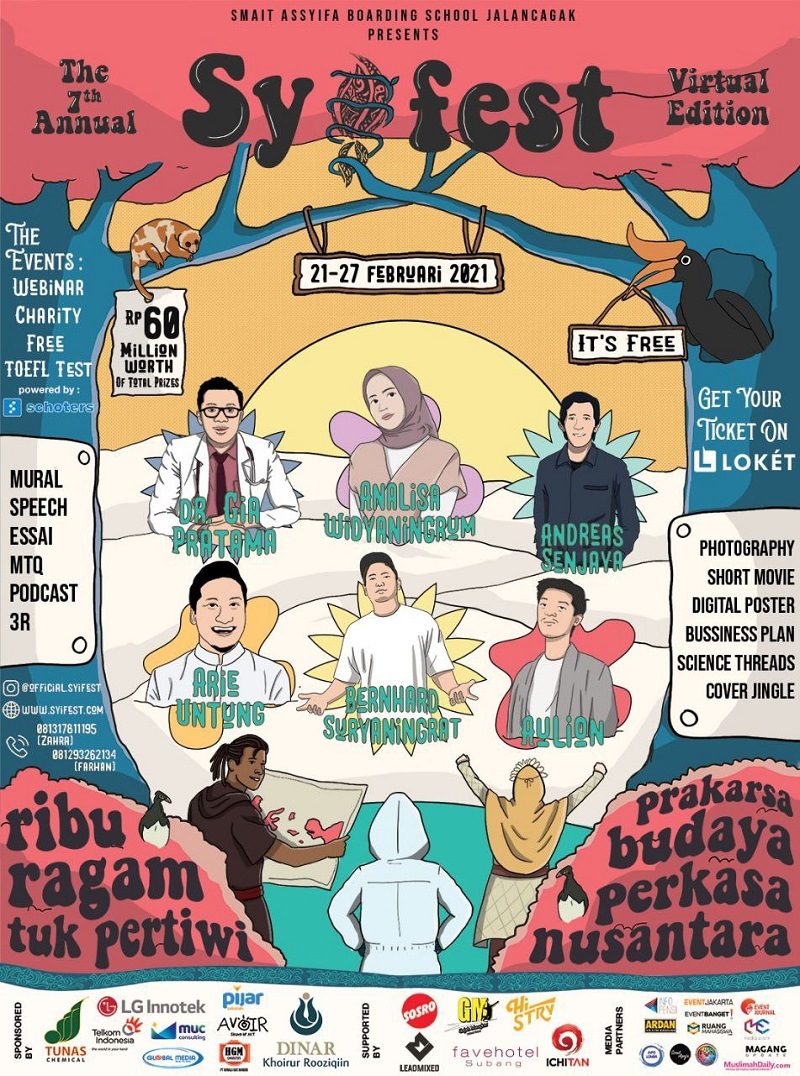 SMAIT AS-SYIFA BOARDING SCHOOL JALANCAGAK
proudly present: SYIFEST'21
❗❗???????? ?????? ??????? ????????? ??? ???? ????? ??? ???????❗❗
As-Syifa festival (SYIFEST) memberikan kesempatan bagi pemuda-pemudi yang ingin tetap mengembangkan minat dan bakat di kala pandemi seperti ini. Maka dari itu, jangan lewatkan kesempatan emas ini! Buktikan bahwa pandemi tidak bisa menghalangi kamu untuk tetap bersinar! ?
?: 21-27 Februari 2021
?: Online
Junior and Senior High School Competition

?PODCAST
♻️ REDUCE, REUSE, RECYCLE (3R)
? DIGITAL POSTER
? SCIENTIFIC THREAD
? PHOTOGRAPHY
? BUSSINESS PLAN
? ESSAY
? SHORT MOVIE
?‍♀️ MUSABAQAH TILAWATIL QURAN (MTQ)
? JINGLE COVER
? MURAL
?SPEECH
All Participant will get E-Certificate.
?Rp 60 Million Worth of Total Prizes!
With 6 Other Webinars
Aulion
Arie Untung
Bernhard Suryaningrat
Analisa Widyaningrum
Dr. Gia Pratama
Andreas Senjaya
Close registration: 15 February 2021
REGISTER NOW!
Stay tune and don't forget to follow us on:
?Instagram: @official.syifest
?Youtube: OfficialSyifest
?Website: www.syifest.com
For more information:
081317811195 (Zahra)
081293262134 (Farhan)